AllBright founders Anna Jones and Debbie Wosskow set up their first club for female-led businesses two years ago. Now there are two sites and plans for another club in the US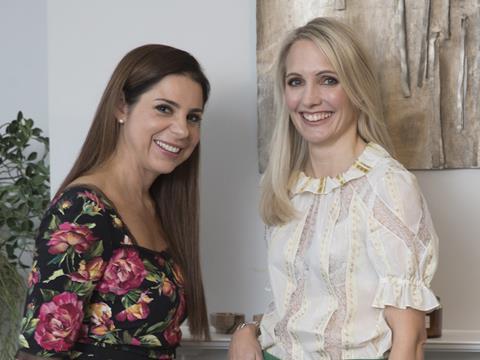 The AllBright is, without doubt, a woman's club. Outside, the famous Virginia Woolf quote, "A woman must have money and a room of her own", is emblazoned across the window. And inside, all five of the Georgian townhouse's floors are coated in stylish feminine decor, with the work of female artists donning the walls.
It's a luxurious workspace for the club's 1,200 female members. Since opening its doors in March on International Women's Day (when else?), the site on Rathbone Place in London has been overwhelmingly popular, to the point founders Anna Jones and Debbie Wosskow have already had to expand.

"With this building, we wanted to prove there was a demand," says Jones, former CEO of magazine publisher Hearst UK. "But it's getting full. So everything we have tested here we are doing bigger in Mayfair." This larger, second site is set to open early next year. And a £9m investment is enabling AllBright to open its first international club in Los Angeles soon after.

But before a bricks and mortar club was created, Jones and Wosskow first set up AllBright in 2016 as a funding initiative to help female-led businesses succeed. "We saw loads of incredible women around us wanting to start a business or reach a peak in their careers but certain obstacles were holding them back. Only 2.17% of capital was being allocated to female founders. Only one in six c-suite roles in UK corps are held by women. AllBright was to shine a light on this problem and help women to attain their ambitions."

And so they started an EIS fund to back female founders, investing in eight businesses in the first year including Well & Truly, a gluten-free snack business owned by Maria and Sara Trechman, and Cat Gazzoli's organic babyfood brand Piccolo. "I knew as soon as I met Cat that she was a woman on a mission. Piccolo was only stocked in a few specialist shops when we invested last year. Now, her products are stocked in Asda and she has a £5m turnover."
But with over 500 applications for the second round of funding, Jones said the process needed to change because, as she begrudgingly admits, she and Wosskow "can't do everything". "Running a business and having a VC fund is laborious and time consuming, with a lot of red tape. But we saw a huge pipeline of incredible founders that we had to connect to as many sources of capital as possible and regularly. So, we run pitch events here every month where female founders pitch to investors for a broad pool of capital."

AllBright also created the FoundHer festival in 2017, the success of which sparked the launch of the club. But they don't want to "limit the community size with physical buildings," leading to the launch of the AllBright Academy, a 10-week programme with a "strand for founders" and "a strand for executives". The faculty is, of course, a list of successful women, including Pippa Murray, founder of nut butter brand Pip & Nut, and Cassandra Stavrou, who created Propercorn.

Both members and non-members are able to enrol in the Academy, which is free of charge. At £750 a year, the membership fee for the club is not quite as generous but is "an affordable price point", says Jones. And though men are welcome as guests, Jones confidently states "it's not their club", which is why the club's appointment of Allan Leighton as chairman in August came as a bit of a shock.

"Some people were certainly more surprised than we expected," says Jones. "But we want to create change for women and to work with enlightened men. We needed somebody who had complementary experience to ours." And Leighton fitted the bill.

The club's latest appointment is less controversial. AllBright's new executive chef Sabrina Gidda launched a menu at the club last month. But though the wine list comes from all female producers, Gidda says "it gets tricky" to do this with food so "it's not regimented".

Regardless, within just two years AllBright has secured its position as a progressive platform for women, with no plans to slow down. "Our plans are to grow the academy and take it to the States," says Jones. "We want to take AllBright to as many people across the globe as we can" - leaving little doubt AllBright will be smashing glass ceilings the world over.