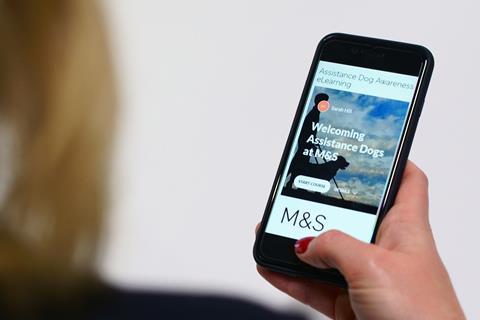 M&S has introduced an online training programme for staff to help them better support shoppers with disabilities.
The scheme focuses on helping employees understand their role in supporting customers with disabilities, including how to identify assistance dogs in stores to mark Purple Tuesday (3 November).
The retailer has developed the programme's resources in collaboration with customer John Dickinson-Lilly, after M&S staff as its Charing Cross branch did not allow his assistance dog into the store, as well as the Royal National Institute of Blind People (RNIB).
Other topics covered in the training include guides for sensory-friendly shopping and deaf awareness and introductory signs for those who use British Sign Language.
The training comes as part of M&S's goal to become a more inclusive and accessible retailer, and follows it being the first major UK retailer to introduce the sunflower lanyard scheme to help staff recognise and better assist shoppers with hidden disabilities.
"We want every customer to be able to shop with confidence at M&S and that means ensuring our colleagues feel equipped to support our customers with disabilities," said Zoe Mountford, lead sustainability manager at M&S. "The experience John received at our store was simply unacceptable and we knew we needed to take action to prevent it from happening again. We know there is always more we can do and we'll continue listening and responding so we can make M&S a more inclusive place to shop and work."