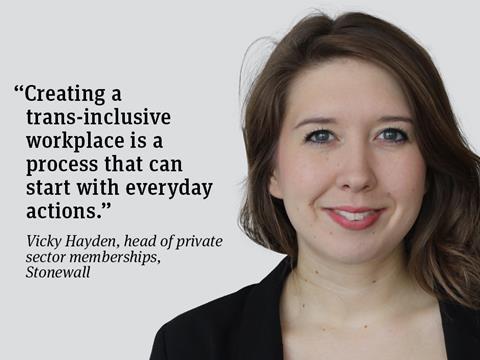 Trans people have always existed, but recently they have become more visible. If you've read a newspaper, been online or watched TV recently, you've probably seen some shocking headlines about trans people. These stories have a damaging impact. They affect people you work with every day, or they may be your customers.

Businesses can be at the forefront of driving equality in society, creating spaces where customers, employees and the wider LGBT community can be accepted. Trans staff and customers face distinct challenges, which is why we started measuring employers on what they're doing for trans equality through our Workplace Equality Index.
As we approach International Transgender Day of Visibility on 31 March, it's time to discuss how retailers can improve trans inclusion. We know trans people in Britain face huge levels of abuse and inequality. Our LGBT in Britain - Trans Report revealed that 12% of trans employees have been physically attacked by a colleague or customer in the past year. And 51% of trans people have hidden their identity at work for fear of discrimination. This year, Co-op was one of only two retailers, and the only food chain, to place in Stonewall's annual list of the top 100 LGBT-inclusive employers. This means there's work to be done.

Creating a trans-inclusive workplace is a process that can start with everyday actions. There are a host of trans-specific measures employers can adopt to improve the workplace for trans employees and consumers.

One easy way is demonstrating support on events such as Trans Day of Visibility and Trans Day of Remembrance, which takes place on 20 November.
Supermarkets can also update systems to offer gender-neutral pronouns like Mx on titles and provide gender-neutral facilities. As part of basic training for staff, supermarkets can outline zero-tolerance policies on transphobic bullying, discrimination and harassment, as well as developing policies to support employees who are transitioning, including information on confidentiality, dress codes and facilities.

Supermarkets can also offer staff a voluntary way to share their preferred gender pronoun with a badge. Giving employees a simple way to indicate how they identify, so people can use the right pronoun when talking to them, helps ensure everyone is accepted and comfortable.

The best way to make the best changes is to ask those directly affected. Listen to the needs of your trans employees and address the challenges they face. This means creating safe spaces for employees to come together, discuss issues and offer potential solutions. Don't assume that if you don't know of any trans people within your organisation that they don't exist.

Organisations across many sectors have already made great strides towards building more inclusive workspaces for trans and non-binary staff. This Trans Day of Visibility, supermarkets can show their support for trans equality and take the lead in embedding trans-inclusion in their business year-round. This is a vital step towards improving life for trans people.

Vicky Hayden is head of private sector memberships at Stonewall