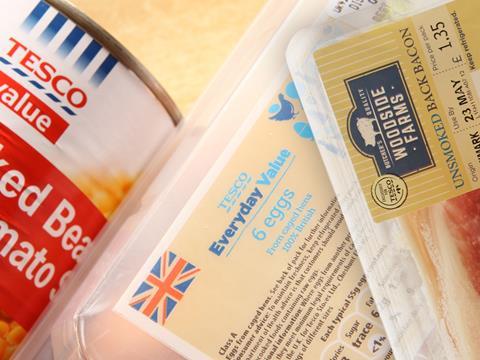 When Tesco created good, better, best tiering in the nineties, the grocery landscape was almost unrecognisable. Its Value range, launched in 1993, was designed to target UK discounter Kwik Save rather than the then-irrelevant Aldi and Lidl. And the unveiling of its 'best' option - the Finest range - in 1998 was primarily designed to maintain the lead it had won over Sainsbury's three years earlier. The strategy was deemed so successful that a good, better, best own-label offering was replicated across UK grocers.

Today, Aldi and Lidl are the ones to watch. As they continue to nibble on market share, the big four have begun to wonder whether their 'good' tier needs to be better, or at least better looking, to combat the discounters.

Tesco first reacted by giving Value a makeover in 2012 to become Everyday Value. But in 2016 it engineered a step change in its 'good' tier by launching Farms brands to replace Everyday Value lines wherever possible. Plenty has been written about the controversial decision to dream up fake farms but Tesco was simply aping the discounters' own fake farms in order to tackle them head on, just like it did with Kwik Save in 1993. And last week Tesco proudly announced 64% of customers were buying products from the range.

As before, rivals are following suit. While Asda has revived the Farm Stores branding (which it axed in 2000 to make way for Smart Price), Sainsbury's started trialling a budget range of fruit and vegetables called Greengrocer's Value Selection earlier this month.
Limited change
Yet none of the supermarkets have made wholesale changes to their ranges. Sainsbury's and Asda's trials are limited, totalling just 22 lines. Meanwhile, Morrisons still has the M Savers range it launched in 2012 to replace Morrisons Value, and a spokesman says it has no plans to shake up the tier (although it says "like all things, nothing is set in stone"). Waitrose's Essential range is still popular, containing over 1,500 lines and delivering sales of over £1bn in 2016.

And though Tesco is clearly thrilled with the performance of Farms, chief customer officer Jason Tarry told The Grocer last April there is no "straight-line plan to phase Everyday Value out. I think what we'll do is evolve our rules like we always have. Genuinely there isn't a plan. But good-better-best forces you into a structure that may not be relevant for customers or today's market."

In short, a 'good tier' made up of sharp pricing and packaging that clearly emphasises value is still in place. For now, anyway.

"We believe the old good, better, best hierarchy is effectively finished in today's marketplace," says Richard Harrow, UK partner at private-label specialist consultancy IPLC. "Aldi and Lidl's products are aimed at brands, but also at the 'better' tiers of the big four. So a fundamental reassessment of the value equation is required.

"When the discounters first entered the UK, the 'good' range was used as the weapon of choice by the mainstream retailers. The issue is that this was about price, not quality. Today's savvy consumers want 'value', not low quality products that are 'cheap'. Tesco Farms was widely derided when it was first launched, yet today it seems one of the best ideas from the big four to compete with Aldi and Lidl."

Vicky Bullen, CEO of Coley Porter Bell (which designed M Savers), believes that the 'good' tier "isn't dead, but it is evolving. Nowadays, it's no longer enough to be cheap, it's about quality products at a lower price." As a result, she says brand design has "evolved in this part of the supermarket probably more than anywhere else. Morrisons was the first with M Savers, moving away from the previous corporate-looking value range, which people had been embarrassed to put in their trolleys, to a new identity with hand-drawn illustrations for each product and a hand-drawn typeface.

The branding demonstrates the care and attention that goes into curating their value products and led to a 46% uplift in sales of the range."

Bullen also believes value branding has to "seduce shoppers by communicating care, quality and careful curation. In design terms that means the details count, food must look good, it often requires some layering of textures or colours. But it also has to play to some of the conventions of value to reassure shoppers on price. Simplicity, white backgrounds, a degree of being pared back. To succeed today, supermarkets need to find that delicate balance."
Value with personality
There is "clearly a desire to inject more personality into the Value tier", says Alison Eddershaw from Cambridge Market Research. "Potential new growth at the value end is likely to come from those sub-brands that focus more on core values, whether that be through different labelling and new pack designs to reconnect consumers, using simpler low cost packaging, or by offering different varieties of fresh produce, wonky vegetables and ugly fruit, more sustainable fish or cheaper cuts of meat. Certainly there is a great deal of 'virtue signalling' in both their presentation, content and in the satisfaction derived by some consumers in buying them."

However, she warns this approach "will not necessarily work on all food types and this may provide a clue as to how ranging will evolve in future. A low price single-serve lasagne will already be sending out danger signals on meat quality that could not be reassured by a 'farm' positioning. There is a need to find a format that reflects the necessary quality standards for an everyday lasagne that is neither premium nor value, however dressed up. We expect more segmentation and differentiation in future ranging and product positioning."

In other words, the good tier won't be disappearing overnight. But after almost 25 years, the story of No Frills food could be coming to an end.