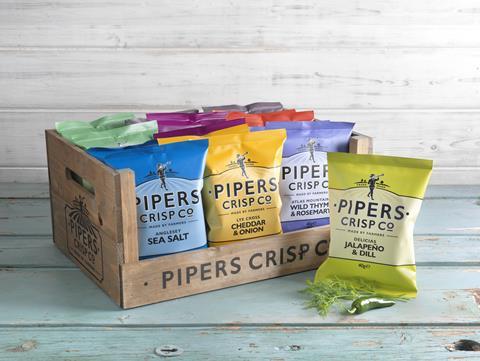 Top story
Brexit uncertainty failed to dampen food and drink deal activity in 2018, though the value of deals during the year dropped markedly.
The total number of transactions completed in 2018 was 209, broadly in line with the 215 seen in 2017 and 202 in 2016, according to Grant Thornton's latest sector report.
The sector recovered from a quiet start to the year to pick up activity in the second half, with the final quarter of 2018 ­seeing 58 deals completed, an increase of 13.7%.

However, the total disclosed value of UK food and drink deals last year slumped from £21.7bn in 2017 to £7.5bn last year.

Grant Thornton's head of food and beverage Trefor Griffith argued this fall did not represent any increased Brexit concerns. Instead it was driven by a relative absence of isolated megadeals, he said.
Last year saw Unilever buy GlaxoSmithKline's health food drinks portfolio in India for £3.2bn, but 2017 saw five £1bn-plus deals.

Griffith said the key drivers of UK M&A in the sector remained undimmed as consumers shift to different products in terms of taste, format and convenience, as well as the appeal of consolidating in a still-fragmented market.
City dealmakers have already warned of a slowdown in 2019, as potential buyers hold out for more clarity.
Read the full story in The Grocer's finance section later today.
Morning update
Profits slid at Wetherspoons (JDW) for the half-year to 27 January 2019, as it was hammered by a £33m rise in labour costs.
Pre-tax profits dropped 18.9% to £50.3m for the year period, despite rising sales, as it was impacted by the increased cost of labour.
Sales growth accelerated for both bar and food sales, as the pub group reported a 7.1% jump in total revenues to £889.6m.
Like-for-like food sales rose 7.1% in the half, compared to 6.9% growth in 2018, while drink sales jumped 5.9%, up from 5.7% growth in 2018.
In its morning statement, the group added that it was impacted by the high rate of tax it pays, describing the disparity between the amount it pays compared to supermarkets as "unfair".
Sales have improved in the current period, with like-for-likes in the six weeks to 10 March surging 9.6%, as it was aided by good weather, commented Wetherspoons chairman, Tim Martin.
The group also warned that costs in the second half of the year would be higher than in 2018, but said its trading expectations for the year remained unchanged.
Vocal Brexiteer Martin also accompanied the investor update, with another statement criticising the government's Brexit progress.
"Previous referendum results on major constitutional issues have always been respected in the UK, but if parliament votes either for Theresa May's 'deal' (which keeps us in the EU by the back door) or to remain in the EU, the referendum result will not have been respected," he said.
"This may well have significantly adverse economic consequences, as the country turns in on itself to endure months, or years, of stifling constitutional argument."
Eslewhere, casual dining competitor Restaurant Group (RTN) saw like-for-like sales slide 2% for the year to 30 December 2018.
The Frankie & Benny's owner saw total sales rise 1% to £686m, but hailed the opportunity for future growth from its recently acquired Wagamama chain.
Current trading is in line with expectations, the company said, and like-for-like sales are up 2.8% for the ten weeks to 10 March 2019
"We have made significant progress in 2018, acquiring a differentiated, high growth business in Wagamama, opening a record number of new sites in both our pubs and concessions businesses, and driving improved like-for-like sales momentum in the leisure business throughout 2018," commented CEO Andy McCue.
"We now have a business that is orientated strongly towards growth and we continue to focus on delivering shareholder value."
The weak pound has continued to aid the FTSE 100, which has leapt 0.5% so far, to 7,220pts, in early morning trading.
Today's early risers include Restaurant Group (RTN), up 6.6% to 135p, B&M European (BME), up 1.1% to 378.2p, and Hilton food Group (HFG), up 1.1% to 950p.
The early fallers include Bakkavor (BAKK), down 6.8% to 120p, Wetherspoons (JDW), down 3.4% to 1,248p, and Greencore (GNC), down 2.3% to 202.9p.
Yesterday in the City
Continued uncertainty over Brexit yesterday resulted in a weaker pound, which buoyed the FTSE 100, moving up 0.4% to 7,185pts.
French hypermarket chain Groupe Casino (CO) saw shares slide yesterday after it raised its target from the sale of non-core assets from €1.5bn to €2.5bn over the next year.
However, Casino's online partner Ocado (OCDO) was one of the day's better performers, rising 2.6% to 1,102p.
The day's other big risers included Hilton Food Group (HFG), up 2.4% to 940p, WH Smith (SMWH), up 2.2% to 2,146p, and Greencore (GNC), up 1.9% to 207p.
Yesterday's most significant fallers included Treatt (TET), down 4.2% to 411p, Nichols (NICL), down 1.6% to 1,540p, Cake Box (CBOX), down 1.6% to 155p and Total Produce (TOT), down 1.4% to 152.7p.