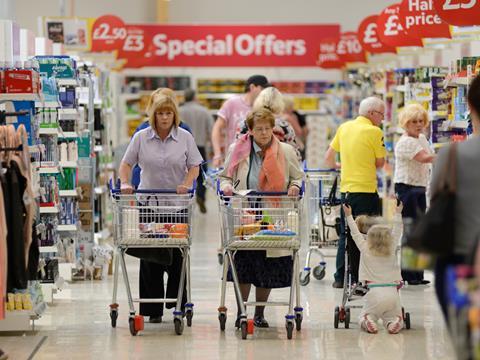 Top story
Food inflation accelerated in November although total shop prices remained almost unchanged since last Christmas, continuing difficult conditions for retailers.
The British Retail Consortium (BRC) and Nielsen shop price index showed that overall prices were 0.1% higher this month, compared with the previous year, making it just the third month of inflation in five years.
Food inflation jumped to 1.6% for the month, from 1.3% in October, as it was impacted by a rise in global cereal prices.
As a whole, global food prices are however falling, the BRC said, adding that it does not expect upward pressure on inflation.
The data does not include the impact of Friday, although it still highlighted significant price reductions in some categories, such as clothing and electricals.
Flat price growth was positive news for consumers, the trade group said, with further price cuts likely as retailers battle for customers.
"As we approach the Christmas season, the good news for consumers is that prices have remained almost unchanged in November," commented BRC chief executive Helen Dickinson.
"Furthermore, falls in the price of clothes and electrical goods will be a welcome bonus as the public prepare to do their Christmas present shopping.
"However, the low inflation presents a more difficult picture for retailers who are facing weak consumer demand and uncertainty surrounding Brexit.
"If the government wishes to rebuild business confidence, they must work fast to ensure we get a transition period that gives retailers and their suppliers time to adapt to business outside the EU."
Mike Watkins, head of retailer and business insight at Nielsen, added: "With the recent slowdown in sales growth across food retailing and the start of seasonal advertising, we can expect further price cuts as the battle for shopper loyalty this Christmas begins to heat up."
Morning update
Consumer giant Unilever (ULVR) is in exclusive talks to finalise a deal for GlaxoSmithKline's (GSK) nutrition business, including prized asset Horlicks, according to reports.
The Financial Times reports that the Anglo-Dutch company beat a rival bid by Nestlé, which was looking to strengthen its market-leading position in powdered hot drinks.
A source of the newspaper added that Coca-Cola was also shortlisted in the final round of the lengthy auction process, which began in September, but its interest cooled.
The valuation of the auctioned business remains undisclosed, although GSK's Indian business is listed on the Bombay Stock Exchange at a market value of $4.2bn. GSK's stake in the business is 72.5%.
The move would strengthen Unilever in one of its largest emerging markets and follows recent acquisitions aimed at beefing up its home and personal care division.
GSK announced in March 2018 that it was launching a strategic review of its Horlicks business along with a number of nutrition-focussed products.
The strategic review was triggered by GSK's decision to buy out Novartis' 36.5% stake in a consumer healthcare joint venture for £9.2bn.
A sale of Horlicks, which is particularly popular in India, would help fund the Novartis deal. Last year, the healthcare group cut 320 jobs at its Horlicks manufacturing site in West Sussex amid falling sales in the UK.
The FTSE 100 has followed on from positivity in the Asian markets, to open higher, rising 0.2% to 7,033p in early trading.
The early risers this morning include Stock Spirit Group (STCK), up 1.4% to 197.2p, Premier Foods (PFD), up 1.2% to 37.5p, and Sainsbury's (SBRY), up 0.9% to 318.3p.
The fallers include Devro (DVO), down 1.6% to 174.2p, Just Eat (JE.), down 1.5% to 569.6p, and Marks & Spencer (MKS), down 1.4% to 305.4p.
Yesterday in the city
Despite constant movement across the day, the FTSE 100 closed yesterday down 0.3% to 7,016pts, as Brexit continues to spook some investors.
The day's big riser was bakery chain Greggs (GRG), which surged 11% to 1,373p, after it upgraded its full year profit expectations.
The bakery group said improved trading performance reported in its third quarter trading update strengthened further during October and to date in November.
Ingredients manufacturer Treatt (TET) rose 1.8% to 450p, after revenues rose 11% to a new annual high of £112.2m, while profit before tax rose from £11.7m to £12.6m.
Other risers over the day included Coca-Cola HBC (CCH), up 4.6% to 2,373p, Ocado Group (OCDO), up 3.3% to 816p, and PayPoint (PAY), up 2.2% to 804p.
Cranswick (CWK) recovered after an initial slump, to rise 0.1% to 2,874p, after it posted first half revenue growth of just 0.6% as export sales fell back amid lower pig prices and softer international demand for pork products.
Yesterday's fallers included Fevertree Drinks (FEVR), down 7% to 2,374p, Majestic Wine (WINE), down 4.6% to 291.5p and Total Produce (TOT), down 3.3% to 155p.