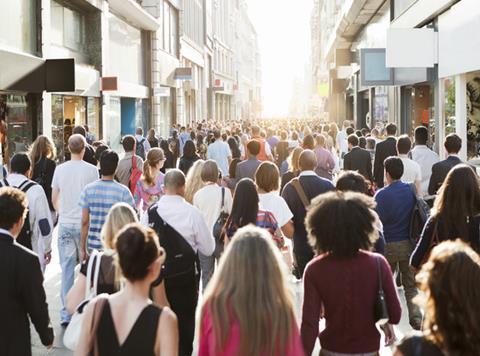 Top story
The UK's consumer confidence has dropped to its lowest level in almost a year amid mounting concerns over Brexit.
GFK's monthly consumer confidence index revealed a sharp fall in the number of people buying big ticket items over the past month.
The survey also saw pessimism over the economic situation for the coming year rise considerably, with the market research group suggesting Brexit uncertainty is taking its toll on shoppers.
The consumer confidence index for November fell three points from October, to -13 with all three key measures falling.
The slump takes consumer confidence to its lowest since December 2017, making it the second lowest figure in almost five years.
The index surveyed 2,003 people between 1 November and 15 November and is closely followed by the Bank of England and other institutions as consumer confidence can be an early indicator of spending patterns.
Expectations for the 'general economic situation' over the next 12 months dropped four points to -32.
People's view of the economic situation for the past 12 months was slightly better, but still slid one point to -29.
Consumers said they were making fewer significant purchases, with the survey's 'major purchase index' decreasing by seven points to -3, its lowest since November 2017.
"Against a backdrop of the Chancellor telling everyone that the Brexit deal on the table will make people worse off, this month we're recording an across the board fall for all measures with concerns over household finances, the general economy and purchase intentions," commented Joe Staton, client strategy director at GFK.
"The measure that fell the most is our Major Purchase Index, with a seven-point plunge that is unhappy news for retailers.
The view on the general economy in the coming 12 months fell four points, as did the perception of the past year's personal finances.
"Overall, we are now back at the -13 level we saw at the end of last year. The next few weeks are highly unlikely to inject any festive cheer, especially if Theresa May's Brexit deal doesn't win backing from MPs."
Morning update
A Liverpool-based cooked meat and sausage producer has collapsed with the loss of 26 jobs.

Lockwoods Liverpool has ceased trading after it failed to secure the necessary financing for a rescue plan.
The company's baked pies business stopped production earlier in the year, making more than 10 redundancies, following meat price increases and rising labour costs.

The move was part of its plans to streamline and become more sustainable, but a cash shortfall left it unable to continue trading.
The meat supplier also launched a retail line of sausages under the Maddock's brand, which had been listed in regional Asda stores.

Administrators Ian Brown and John Fisher of Parkin S Booth & Co in Liverpool were appointed on 15 November.

"Due to rising costs of raw materials and regulation, they had to make some redundancies," Brown told The Grocer. "They had the vicious spiral of having to make redundancies but also eating into their cash to finance those."
Read the full story on The Grocer's finance section later today
Caution ahead of the G20 summit in Argentina has seen the FTSE 100 slump 0.5% to 7,005p this morning.
The early risers in the sector this morning include PayPoint (PAY), up 3.6% to 883p, Britic (BVIC), up 2.2% to 866.5p, and Fevertree Drinks (FEVR), up 1.8% to 2,384p.
The early fallers include British American Tobacco (BATS), down 1.9% to 2,729p, B&M European Retail (BME), down 1.4% to 353.7p, and Imperial brands (IMB), down 1.3% to 2,386.5p.
Yesterday in the city
The FTSE 100 rallied at the end of trading yesterday following improvements on Wall Street, with UK index rising 0.5% to 7,038.9pts.
The big news impacting one of the FTSE's biggest heavyweights, was yesterday's announcement that Unilever (ULVR) CEO Paul Polman will retire, to be replaced by beauty and personal care chief Alan Jope.
Despite the "unexpected" replacement, Polman's departure was clearly little surprise, with the consumer group seeing a modest 0.1% decline to 4,254.5p following the news.
One of the day's top performers was soft drink group Britvic (BVIC), which surged 8.3% to 847.5p after reported annual revenue growth of 5.1% driven by increased sales of Robinsons and J20 and increased post-sugar tax market share for Pepsi.
Brewer and pub company Green King (GNK) rose 5.5% to 535.6p after revenues grew by 1.9% in the first half of the year to £1.05bn driven by strong sales of its owned pubs and brewing and brands division.
Other risers included PayPoint (PAY), up 7.2% to 852p, Nichols (NICL), up 3.1% to 1,420p, and McColls (MCLS), up 2.6% to 126.2p.
The Restaurant Group (TRG) continued its heavy slide, diving another 7.8% to 134.4p after its shareholders confirmed plans to purchase Wagamama.
Other fallers included Total Produce (TOT), down 5% to 142.5p, Real Good Food (RGD), down 3.8% to 6.2p, and Carr's Group (CARR), down 3.3% to 153p.