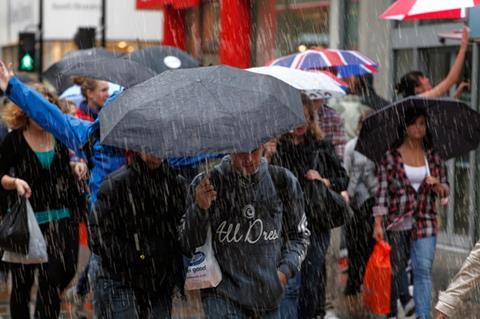 Top story
The wet start to the summer compared with last year's heatwave and the run up to the men's FIFA World Cup limited grocery market growth, according to the latest grocery market share data.
Kantar found that supermarket sales grew 1.4% year on year during the 12 weeks to 16 June, while Nielsen said grocery sales last month increased by just 0.4% as wet weather hampered growth.
Kantar said, nonetheless, this modest growth marked a new milestone for the sector which has now seen three years of continuous growth dating back to July 2016.
Fraser McKevitt, head of retail and consumer insight, said shoppers sought refuge from the cooler weather and spent more on traditional comfort foods. Fresh soup sales climbed 8% and tinned soup sales 16%.
Traditional summer bellweathers, however, suffered. Sales of ice cream were £15m lower in the past four weeks than this time last year. Beer fell £17m and burgers £6m during the same period.
Aldi attracted an extra 883,000 shoppers over the 12 week-period and sales climbed 9.3%. This helped the discounter grow its market share to 7.9%, up by 0.5 percentage points on one year ago.
McKevitt said that Aldi's announcement that it was rolling out more small, Local format stores in London looked like an attempt to increase its share in the capital, where it currently took home just one out of every £30 of supermarket spend.
"Grocery sales growth in London currently stands at 4% year on year, nearly three times the national rate, showing why all retailers see the capital as a major area of potential," McKevitt said.
Lidl sales climbed 7.5%, which lifted its market share to 5.7%.
The Co-op's sales grew 3% and also increased its market share to command 6.2%.
"Co-op is continuing to enjoy success in London and the South, where new store openings have helped make the region its largest area of growth," said McKevitt.
"The convenience retailer already boasts the highest shopper frequency in the market as customers regularly pop in for smaller baskets and this has increased even further in the latest period: the average shopper stopped by 22 times over the course of 12 weeks."
Ocado was the UK's fastest growing supermarket, with sales growth of 11.3% comfortably ahead of the overall e-commerce market at 6%.
However, only 3% of British shoppers currently buy from the retailer, something Kantar said it would be looking to build on when it began to stock M&S products next year.
Iceland also enjoyed sales growth, up 0.6%, although its market share slipped 0.1 percentage points to 2.1%.
Tesco sales were flat year on year despite an increase in volumes sold. This was caused by the average price paid per pack falling as sales of its value own label lines like Eastman's and Redmere Farms increased by 11%, and its '100 Years of Great Value' campaign continued to offer lower prices.
Tesco remained the country's largest retailer, although its market share fell 0.4 percentage points to 27.3%.
Sainsbury's saw its sales fall 0.6% in the latest 12 weeks. This halved the rate of decline it registered last month. Kantar said this was because of an increase in the number of affluent consumers visiting the retailer, with 'AB' shoppers increasing spend by 2% this period.
"The rise in wealthier shoppers bodes well for Sainsbury's and its plans to shake up its fresh offer, which will place more emphasis on counters, bakeries and food to go. The retailer will be hoping this provides another reason for shoppers to visit," said McKevitt.
Asda's sales fell 0.1% but its online arm, which enjoyed double-digit growth of 10%. Asda's share of the overall market fell 0.2 percentage points to 14.9%. Morrisons' sales decreased 0.5%, lowering its share to 10.4% of grocery sales.
Waitrose's share this period slipped back 0.1 percentage points to 5%, with sales flat compared with a year ago.
Grocery inflation stood at 1% for the 12-week period. Prices are rising fastest in markets such as crisps, bottled cola and dog food, while falling in instant coffee, fresh bacon and detergents.
Also released this morning is the latest sales data from Nielsen for the past four weeks which showed growth in the grocery sector continued to slow.
Industry sales increased by just 0.4%, costing UK supermarkets more than £120m in missed sales.
It attributed the slowdown most likely to the "monsoon" weather.
The Nielsen data shows that over the last 12 weeks, sales at the big four supermarkets were flat or in slight decline, with the strongest sales at The Co-operative (+1.9%), Iceland (+2.2%), Aldi (+9.4%) and Lidl (+15.2%).
Tesco continues to dominate in market share (26.5%), but the rising combined market share of Aldi (9.5%) and Lidl (6.4%) places the combined discounters in second position, overtaking Sainsbury's (14.3%) and Asda (13.6%).
Mike Watkins, Nielsen's UK Head of retailer and business insight, said: "It's clear that promotions, events and the vagaries of the weather have a big impact on supermarket sales.
"The summer trading season stretches 18 weeks from the first May bank holiday to the last week in August. In the first seven weeks of summer 2019, shoppers have so far spent £350m less in supermarkets. This equates to a 2.1% fall in value sales compared to the same time period last year."
This meant that for supermarkets to match the same level of sales as last summer, shoppers would now need to spend £26bn during the remaining 11 weeks.
"This looks a tall order as weekly growth is currently down, and we would need a sustained heatwave through to August, as we had last summer, just for the growth at supermarkets to stand still," Watkins said.
Morning update
Stock Spirits Group (STCK) will hold a Capital Markets Day today and tomorrow for institutional investors and sell-side equity analysts in the Czech Republic.
On the markets this morning, the FTSE 100 fell 0.4% to 7,389.1pts in early trading.
Early risers include Stock Spirits Group (STCK), which holds its Capital Markets Day today in the Czech Republic, up 2.4% at 226.7p.
McBride (MCB) climbed 2% in early trading to 79.56p, Sainsbury's (SBRY) climbed 1.7% to 191.2p and McColl's Retail Group (MCLS), rose 0.8% to 68.94p, continuing yesterday's impressive run.
Fallers so far today include Nichols (NICL), off 3.1% at 1,715.8p, PZ Cussons, (PZC), down 2.5% to 216.5p, British American Tobacco (BATS), down 1.6% to 2,739p and Imperial Brands, down 1.5% to 1.824.8p. Morrisons (MRW) slipped 1.2% to 196.7p.
Yesterday in the City
The FTSE 100 closed up 0.1% yesterday at 7,416.7pts.
Environmental activists said they would target Kroger's annual shareholder meeting on Thursday to protest about the food company's pesticide policies.
Various groups organised by Friends of the Earth will call on Kroger to join Fresh Market, Trader Joe's, Walmart and Whole Foods in signing on to the Fair Food Program and committee to eliminated food grown with toxic pesticides from its supply chain to help curb what they call "the bee apocalypse".
FTSE 100 fallers included Devro (DVO), which dipped 4% to 202.5p, Sainsbury's (SBRY) slipped 4% to 188p, Marks and Spencer Group (MKS), moved down 2.7% to 204.2p and B&M European Value Retail (BME), fell 2.5% to 315p.
Stocks on the up included McColl's Retail Group (MCLS), which jumped 7.2% to £68.4p, PZ Cussons (PZC) put on 4.5% at 222p and Stock Spirits Group (STCK) climbed 3.8% to 221.5p ahead of its Capital Markets Day in the Czech Republic. PayPoint (PAY) pushed 3.3% higher at 11,064p.