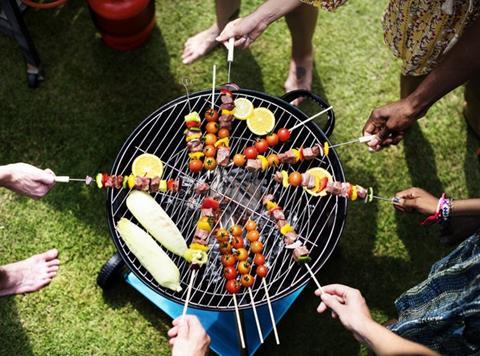 Top story
The latest grocery market share figures show supermarket sales growth has slumped in recent weeks to due the cooler temperatures compared to last year's sunny spring weather.
Figures from Kantar show the market grew 1.3% during the 12 weeks to 19 May, impeded by the hottest May on record in 2018 and the key events that took place last year such as the royal wedding and a well-watched FA Cup Final.
Sales of beer and lager fell 7%, ice cream 12% and sun care 16% during the past four weeks as cooler weather impacted discretionary spending.
Chris Hayward, consumer specialist at Kantar, said growth of 1.3% might appear modest when compared with last year's 2.7%, but the sector continued to demonstrate resilience and volume sales remained unchanged from last year.
"We have two European football finals with British interest, the Cricket World Cup and the FIFA Women's World Cup to look forward to in the coming weeks and retailers will be aiming to capitalise on these events and attract more shoppers throughout summer."
Kantar reports that Aldi and Lidl are worth a collective £344m more than this time last year and reached a combined record market share of 13.8% this period.
"The discounters continue to attract customers with nearly 1m more households visiting Aldi compared with last year and an additional 630,000 shopping at Lidl," said Hayward.
About 75% of growth at both supermarkets was coming from the ambient and chilled aisles as people opted for value in a greater proportion of their basket," he said.
Tesco (TSCO) recorded 27.3% market share. Its sales were supported by the performance of its own label ranges.
"While Tesco's overall sales were flat, its performance was the strongest out of the big four during the past 12 weeks. Exclusively at Tesco products continue to be popular and went home in a quarter of customers' baskets while discounts linked to the retailer's '100 years of value' campaign delivered a further boost," said Hayward.
"Looking ahead, the supermarket will be hoping the decision to make lines from its Jack's discount arm available in store throughout May will pique customers' interest and generate incremental sales."
Waitrose experienced marginal growth of 0.1% but its new Good Health range was one of the fastest growing own label lines across the major retailers, with sales totalling £13.4m.
The Co-op delivered the strongest bricks-and-mortar sales growth, outside of Lidl and Aldi – 3.7%. Hayward said shoppers were clearly enjoying their experience in store at the Co-op and had increased their number of trips by 5% in the past 12 weeks.
New promotions like its frozen meal deal had also proved popular and sales of frozen pizza were up 27%, and frozen chips, 24% during the past 12 weeks.
Sainsbury's (SBRY) market share fell 0.5 percentage points to 15.2%. With the CMA ruling against the proposed merger now behind them, Asda and Sainsbury's are neck and neck in the number two position this period as overall sales at Asda fell 0.2% despite online growth of 10.7%, Kantar reported.
Morrisons (MRW) remains Britain's fourth largest supermarket with 10.4% market share down from 10.5% this time last year.
Ocado increased its market share to 1.3% and Iceland held steady at 2.1%, making good use of Y for £X deals. "Sales through promotion at Iceland are marginally higher than this time last year, accounting for 32% of overall grocery spend," said Hayward.
However, Sir Malcom Walker's group had created more innovative meal deals, often offering a free component rather than a cash or volume discount to entice shoppers and increase overall volume spend.
Nielsen, meanwhile, reported that consumer spending on groceries stalled on the back of disappointing spring temperatures.
Sales declined by 1.6% in May – a significant drop in grocery spend compared with the same four-week period last year, which saw a 5% uplift driven by the early spring heatwave and the Royal Wedding, it said.
Supermarket promotional activity increased slightly in the period, accounting for 27% of sales led by the promotions and price cuts celebrating Sainsbury's and Tesco's milestone anniversaries. Morrisons ran its Price Crunch campaign.
Nielsen noted that supermarkets were also investing more in advertising to support these campaigns, with new data from Nielsen AdIntel revealing that advertising spend on TV and press increased by 4% year-on-year to £80.6m in the period January to April 2019. Asda topped the list as the largest supermarket advertising spender.
Mike Watkins, Nielsen's UK head of retailer and business Insight, said: "Consumer confidence remains unchanged and with the cost of household bills continuing to rise, and 40% of households feeling insecure about their finances, the economy remains the number one concern for shoppers.
"The result is that shoppers remain cautious about their grocery spend as they look to manage their overall household budgets. However, recent advertising seems to be resonating well with the 12m households looking to save money on grocery shopping and we anticipate that shoppers will be responding well to the price cuts and promotions associated with the milestone anniversaries at Sainsbury's and Tesco."
Watkins added that it was important to note that the structural shift of sales away from traditional supermarkets continued with Aldi and Lidl still gaining combined market share.
"With six in 10 households visiting these two discounters every four weeks - compared to 40% just five years ago – and new store openings, they continue to grow sales fast."
Lidl enjoyed a 15.7% uplift in sales in the 12 weeks to 18 May compared with the same period last year – higher than any other retailer, followed by Aldi, 11.2%, the Co-operative, 2.7% and Iceland 2.6% Sainsbury's was the laggard in the pack, down 2%, Nielsen's figures show.
Morning update
Food inflation continued to decelerate in May to 1.8% from 2.2% in April, helped by supermarket price reductions, especially on seasonal food and drink, the latest British Retail Consortium (BRC) - Nielsen Shop Price Index published this morning shows.
The latest reading is above the 12-month average price increase of 1.7%, but below the six-month average price increase of 1.9%.
Fresh food inflation held steady at 1.5% May – above the 12- and six-month average price increases of 1.3% and 1.4% respectively.
Meat prices fell this month, in line with past global developments which are now feeding through into final consumer prices. On the other hand, downward pressures on dairy products are yet to be passed on to consumers, the index showed.
Ambient food inflation slowed to 2.1% in May down from 3.2% in April. This is below the 12- and six-month average price increases of 2.3% and 2.4%, respectively.
Overall shop price inflation accelerated in May to 0.8% from 0.4% in April – above the 12- and six-month average price increases of 0.2% and 0.6%, respectively – driven by increases I non-food prices, especially furniture and health & beauty.
Mike Watkins, head of retailer and business insight, at Nielsen, said: "Whilst there are still cost price increases coming through the supply chain, food inflation remains lower than CPI and supermarkets continue to offer price reductions, in particular on seasonal food and drink, which is helping to offset other cost of living increases.
"Inflation has returned to non-food but consumers remain cautious and there is intense competition on the high street. With non-food retailers facing uncertain levels of demand, price discounting could quickly return if demand weakens over the next few months."
Helen Dickinson, chief executive of the BRC, said: "Shop price growth in May was the second highest rate in the last six years, though it remains well below headline inflation. The forces driving inflation continue to play out differently across the industry.
"The price rises in some non-food categories, such as furniture and health & beauty, follow years of deep discounting, while other areas, such as electrical and clothing, have seen greater technological disruption and more intense competition, putting downwards pressures on prices. Food inflation continued to slow, though it remains above the 12-month average.
"Rising costs associated with currency depreciation, stockpiling, rising minimum wage and the Apprenticeship Levy, have all put upwards pressure on prices for a while, and it now appears that retailers cannot absorb them any longer. Unless the government addresses future cost rises, including spiralling business rates, we may see larger price rises in the future," she said.
On the markets this morning, the FTSE 100 fell 1% in early trading to 7,202.9pts
Early risers include Glanbia (GLB), up 1.4% at €15.5, Paypoint (PAY), up 1.3% at 1,084p, Cranswick (CWK), up 1% at 2,748p, PureCircle (PURE), up 0.4% at 281p and C&C Group (CCR), up 0.3% at €3.75.
Fallers so far today include Marks and Spencer Group (MKS), down 4.6% at 239p, British American Tobacco (BATS), off 2.5% at 2,815p, Stock Spirits Group (STCK), down 2.1% at 231p and McColl's Retail Group (MCLS), off 1.8% at 82.7p.
Yesterday in the City
The FTSE 100 closed down 0.1% at 7,269p.
FTSE 100 fallers included British American Tobacco (BATS), down 3.3% at 2,886.5p, Hilton Food Group, off 3.3% at 1,006p, Majestic WINE (WINE) subject to ongoing speculation about who will buy its retail estate, fell 3.1% and Imperial Brands (IMB) fell 2.4% to 1,999.8p.
Stocks on the up included B&M European Value Retail (BME), up 4.2% at 362p, Tesco (TSCO), up 2.7% at 238.2p, Stock Spirits Group (STCK), up 2.2% at 236p and Sainsbury,(SBRY), up 1.8% at 198.88p.