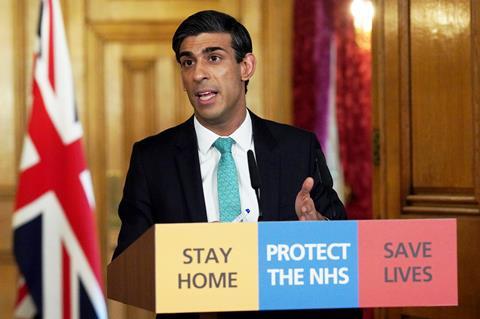 The new micro loan scheme provides 25% of turnover up to £50k

Most businesses will receive the loan within 24 hours of approval

It comes after previous emergency measures for SMEs such as the CBILS received harsh criticism
Food and drink SMEs have praised the government's new bounce back loan scheme, which promises to be a "much-needed lifeline" to ensure their survival in the coronavirus crisis.
On Monday Chancellor Rishi Sunak announced the new micro loan scheme, providing 25% of turnover – up to £50k – with the government paying interest for 12 months and guaranteeing lenders 100% of the loan.
"There will be no forward-looking tests of business viability, no complex eligibility criteria, just a simple, quick, standard form for businesses to fill in," Sunak told parliament.
The scheme will launch next Monday (4 May), and most businesses will receive the loan within 24 hours of approval.
Young Foodies co-founder Thea Alexander said details of the scheme will be key to fully understand how it would impact food and drink SMEs.
"That being said, if this process is as simple as it sounds, and can circumnavigate the bank lending requirements, this is a really encouraging move and potentially a last lifeline for those adversely affected," she added.
Andrew Allen, partner in vegan 'junk' food brand Biff's Kitchen, agreed: "On face value, it looks like what was needed by smaller brands – those generally viable – to get to the other side of the crisis."
The new scheme comes as previous emergency measures for SMEs – especially the Coronavirus Business Interruption Loan Scheme (CBILS) – received criticism for letting companies "slip through the cracks" amid rigid eligibility criteria and delays in delivering the funding.
A later scheme announced by the Treasury two weeks ago, the Future Fund, also came under fire for failing to provide meaningful help in terms of equity-based funding.
Rejuvenation Water founder Kris Ingham, who was refused a loan under CBILS, said the bounce back scheme felt like an admission from the government that the previous aid failed to support small businesses.
"They are trying to make amends," he said.
"They are listening to feedback and, from the outset, this seems like the solution for access to quick and easy capital for a business like ours."
Rejuvenation Water would be eligible for up to the full £50k, he added, and would apply for the loan once it became available.
Ingham added: "They said it will be a straightforward procedure, but with these things you never know. There is always some kind of curveball at the last minute."
SMEs and industry experts also noted there remained issues that needed to be addressed, particularly the scheme's exposure to potential fraud and scams.
People could be reopening business "just to take in a risk-free £50k", Ingham noted, or use holding and parent companies to access the loan more than once.
Allen, who agreed there was potential for people to take advantage of the loans, said: "There will have to be some deterrent. Not least a moral one, but you would hope this would be the kind of thing that should someone be taking advantage of will receive some kind of consequence."
Furthermore, the Food & Drink Federation urged an extension of the government's 100% guarantee to both CBILS and the Coronavirus Large Business Interruption Loan Scheme (CLBILS) to support larger SMEs.
Dominic Goudie, head of international trade at the FDF, said: "We welcome the Chancellor's decision to put in place a new bounce back loans scheme for smaller businesses that are struggling to access funds through the CBILS. Changes to viability tests faced by CBILS applicants will also be helpful for larger SMEs.
"More can be done to simplify the applications process for both CBILS and CLBILS and to speed up the delivery of funds to struggling businesses that are currently missing out."