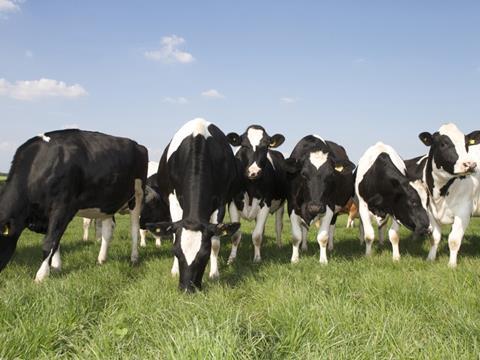 Russia's ban on food imports from the West is likely to affect the dairy industry more than other parts of the food and drink trade, experts have suggested.
A year-long ban on a range of products, including meats, vegetables, milk , cheese and fish from the EU, US, Canada, Australia and Norway, was announced by Russian authorities on Thursday (7 August).
What does the Russian import ban mean for suppliers?
Beef and lamb
Eblex said the UK currently sends no beef or lamb to Russia. A ban on UK beef was lifted in September 2013 but British companies were still examining the logistical issues of supplying Russia, and it is believed most work has halted following the troubles in the Ukraine.
Pork
EU and US imports were already banned from Russia (for different reasons) so no direct impact is expected on the EU or UK market. Canada, however, is a significant supplier to Russia so the ban will increase supply on other global markets, which could in turn impact on EU exports and lead to a small drop in prices
Dairy
Russia is a key export destination for EU cheese and butter, so new markets will need to be found for these products which will add to the current downward price pressure in the short term.
Grain and oilseeds
The UK last exported to Russia in 2011/12 and, on a global scale, Russian grain imports are relatively minor.
Potatoes
Russia is largely self-sufficient in potato production. The UK exported some seed potatoes to Russia but from 1 July 2013 Russia had banned the import of seed potatoes from the EU. In May some countries were allowed to start importing again but that hadn't included the UK.
Source: AHDB
The UK currently exports limited quantities of the outlawed products to Russia, and the ban is unlikely to have a direct effect on the majority of suppliers . According to figures from the Food and Drink Federation, UK food exports to Russia were worth £97m – less than 1% of the UK's £12.4bn world exports. Products imported by Russia in 2013 included £17m of frozen fish and £5.8m of cheese.
However, Russia is a key export destination for EU cheese and butter , and the price of these is expected to fall – in the short term at least – as new markets have to be found for dairy products from the EU.
Arla's Danish head office said on Friday its operations were affected by the Russian sanctions, with its global head of communications writing on Twitter: "Arla can confirm that we will be affected by Russian ban on EU dairy products. We have stopped production of products to Russia."
As EU producers have to find new markets, this is expected to bring down UK prices for dairy products, which tend to follow EU trends.
Any drop in price would put further pressure on the British dairy industry, which is already suffering from declines in global and EU prices.
First Milk this week announced a further cut in the price it pays farmers for milk – just days after its most recent reduction came into effect – with First Milk chairman Sir Jim Paice blaming the latest cut on falling commodity prices and continued decline in UK market returns. This follows a string of price reductions across the industry.
Trade body Dairy UK said it was liaising with the UK government, the EU and other industry stakeholders to understand the implications of the Russian ban.
"At present those implications have not been fully set out," said a spokesman. "We will keep in close contact with Defra on this issue and keep our members updated on any developments."
National Farmers' Union deputy director general Martin Haworth warned there was "every likelihood" a ban could have an impact on EU produce prices, which would then have a knock-on effect on the UK.
"This timing is also worrying as it comes when most farm prices in the UK have already seen significant falls over the past year"

Martin Haworth, NFU
"This timing is also worrying as it comes when most farm prices in the UK have already seen significant falls over the past year and any further downward pressure can only exacerbate problems," he said, adding that when Russia banned imports of EU fruit and vegetables during the German E.coli outbreak in 2011, retailers were tempted by low-cost EU imports which put UK growers under pressure to match "unsustainable" low prices.
"We have long said we must have long-term commitments from retailers, ones which can take into account agricultural volatility – or in this case political volatility – so we are not in a position which sparks sudden and opportunistic short-term moves which threaten our ability to produce food in this country," he added.
Historical evidence suggested a ban of imports would have an impact on the prices of the affected commodities, said Mintec data director Brian Smith, adding the scale of that impact could vary from minimal to significant.
"The unrest and uncertainties between Russia and Ukraine have been ongoing throughout 2014 and we expect that exporters into the Russian market are likely to have minimised their exposure to risk following these uncertainties and the sanctions from the US and EU," he said. "For this reason there is a potential that any impact will be at the minimal end of the scale. However if mitigating risk actions have not been taken, the effect on pricing may be significant."