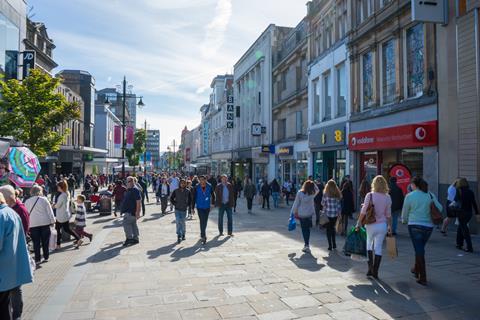 Top story
Retail footfall declined for the 15th consecutive month in February, as it plunged 2% according to new research.
The slump in retail footfall made it the weakest February in five year, British Retail Consortium (BRC) and Springboard figures revealed.
The decline in footfall accelerated, dropping 2% compared to February 2018, which had seen a 0.5% drop on the previous year.
High street footfall declined 1.9% during the month, marking the seventh consecutive month of decline on the UK's beleaguered high streets. It comes after a 1.2% decline in February 2018.
Retail park areas performed more strongly but still saw decline, with footfall dropping 0.8%, although this represents a steep drop from its 1.4% growth in 2018.
The worst performing shopping locations last month were shopping centres which reported a 3.4% decline over the period.
The figures followed the BDO High Street Tracker last week which revealed high street retail sales in February were the weakest for a decade, as Valentine's Day failed to provide an uplift.
In-store sales were down 3.7% on February last year, representing the worst performance since 2009.
"Consumers have been cautious in their spending, leading to the biggest drop in February footfall for five years," commented BRC chief executive Helen Dickinson.
"These figures echo the month's poor Retail Sales figures, which saw weak growth, particularly in bricks-and-mortar stores.
"While real incomes have been rising over the last year, the uncertainty surrounding Brexit appears to be driving a needs-not-wants approach top shopping."
Diane Wehrle, Springboard marketing and insights director said: "The 2% drop in footfall in February - a significant worsening from 0.5% in February 2018 - occurred despite the fact that February this year was the hottest on record.
"However, the record temperatures only occurred in the final week of the month when footfall rose by 2.5% compared with drops in each of the preceding three weeks, averaging 3.6% decline.
"Indeed, the balmy conditions certainly helped high streets where footfall rose by 4.5% in the last week of the month compared with an average drop of 4.1% in the preceding three weeks."
Morning update
Logistics giant Wincanton (WIN) has appointed Debbie Lentz and independent non-executive director.
Lentz is currently president of global supply chain for FTSE 250 electronic products supplier Electrocomponents.
She will join the group on 1 June 2019 and has been appointed a member of Wincanton's audit, remuneration and nomination committees.
Lentz was previously Chief Supply Chain Officer at Toys 'R' Us from 2014 to 2017 where she led the expansion of their digital supply chain platform.
Between 2001 and 2014, she held senior management positions in customer service, logistics, manufacturing and IT at Kraft Foods Group in both North America and Europe.
"We are delighted to welcome Debbie to the Board," commented Dr Martin Read, chairman of Wincanton.
"She has a strong track record in digital and supply chain management, both of which are highly relevant to the further development of Wincanton's e-commerce propositions."
Despite a fairly subdued morning for the sector, the FTSE 100 has sprung into life, rising 0.7% to 7,157pts.
The early risers this morning include Nichols (NICL), up 3.3% to 1,550p, Devro (DVO), up 2.7% to 187p, and McColl's (MCLS), up 2.7% to 88.2p.
The fallers this morning include Hotel Chocolat Group (HOTC), down 1.6% to 352.1p, Carr's Group (CARR), down 1.4% to 161.5p, and Ocado (OCDO), down 0.8% to 1,045p.
This week in the City
As we get further into March, the number of final year results announcements left is beginning to dwindle, although there are still some key businesses set to make announcements this week.
The biggest one of the week is Morrisons (MRW), which will update investors about its profitability when it announces its full-year results on Wednesday.
Despite a slowdown in retail growth, it is expected to reveal a hike in profits over the year on the back of its strong wholesale arm.
On Tuesday, takeaway giant Dominos Pizza Group (DOM) is expected to reveal a reduction of store openings, as it continues to face pressure from franchisees over profits.
Elsewhere on the same day, stevia producer Purecircle Limited (PURE) will also reveal its full results for 2018.
On Thursday, French supermarket and Ocado partner Casino Guichard Perrachon will reveal its full year sales figures.
Lastly, on Friday the week will end with results announcements from casual dining giants The Resaurant Group (RTN) which will reveal its 2018 performance, and interim results announcement from Wetherspoons (JDW).