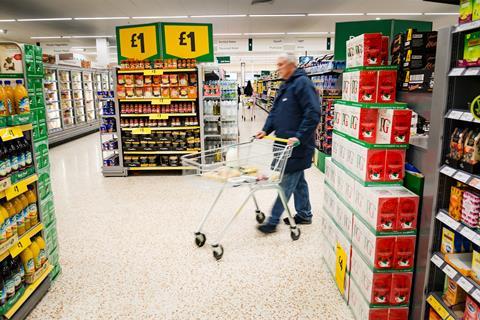 Top story
UK retail sales growth significantly slowed in the first three months of the year amid Brexit-related caution from consumers, according to new data.
Retail sales increased by 0.6% in the period to the end of March 2019, compared to the previous year, far below 2018's growth rate of 1.8%.
March sales figures also saw a marked slow-down in growth, recording a 0.5% rise in sales compared to 2.3% growth in 2018, as it was impacted by a longer run-up to Easter, according to the BRC and KMPG sales monitor.
It is the second month in a row which has seen sales growth slower than the previous year amid caution from consumers.
Food sales for the three months to March rose increased 0.2%, on a like-for-like basis, and 1.3% in total, behind the 2% total average growth for the past 12 months.
Meanwhile, non-food sales declined during the period, falling 1.5% in total and 1.7% on a like-for-like basis.
"Retail sales slowed in March, even when the Easter distortions were accounted for, as greater uncertainty caused people to hold off from splashing out," commented BRC chief executive Helen Dickinson.
"While jewellery, beauty products and clothing purchases were all up to indulge on Mother's Day, shoppers were generally cautious not to overspend, particularly on larger items.
"Brexit continues to feed the uncertainty among consumers. For the sake of everyone, MPs must rally behind a plan of action that avoids no deal – and quickly – or it will be ordinary families who suffer as a result of higher prices and less choice on the shelves."
Susan Barrett, CEO for Food & Drink at IGD said: "The lateness of Easter in 2019 is the main factor behind the year-on-year fall in food and grocery sales for March.
"Although 62% of shoppers are worried about the economy this is the same number as in summer last year. For the great majority, it has been food shopping as usual."
Sue Richardson, retail director at KPMG, added: "March marked a truly disappointing end to the first quarter of 2019 for retailers. Not only did total sales fall 0.5% compared to the same month last year, but no further clarity around Brexit came to light, and shoppers continue to waiver.
"Not all categories or channels suffered the same fate though, with clothing generally bagging a welcome reprieve thanks to more favourable weather – especially when compared to the Beast from the East this time last year.
Morning update
Specialist cake retail business Cake Box (CBOX) reported a slow-down in like-for-like sales but remains on track for stellar growth amid new a raft of new openings.
The egg-free cake business reported 6.5% like-for-like growth in the full year to 31 March 2019, dropping behind 15% growth in 2018.
However, the retailer expects to report revenues for the period of £17.1m, up around 30% on the same period last year, it said in a trading update.
Average sales per store has continued to rise while the group has been boosted by 28 store openings during the year in locations including Harlow, Bury and Croydon, bringing its store portfolio to 114.
The retailer said it expects its profits for the year to be in line with market expectations.
"Our first year as a public company has been an exciting one," commented CEO Sukh Chamdal. "We've achieved record revenues, opened a record number of stores and continue to see strong appetite for our unique customer offer.
"As we continue to grow our presence for customers across the UK, we have invested in new facilities to support expansion, including two new warehouse and distribution centres in Bradford and Coventry.
"We believe the group ideally positioned to deliver profitable growth and enter our new financial year with confidence."
The FTSE 100 has opened the day down amid Brexit uncertainty, falling 0.2% to 7,440pts.
The early risers included Bakkavor (BAKK), up 2.8% to 132.8p, Restaurant Group (RTN), up 2% to 114.1p, and Hilton Food Group (HGF), up 1% to 950p.
Early fallers include Fuller, Smith & Turner (FSTA), down 2.5% to 1,129p, Science in Sport (SIS) down 1.7% to 51.1p, and Fevertree Drinks (FEVR), down 1.7% to 2,905p.
Yesterday in the city
The FTSE 100 closed marginally higher, up 0.1% to 7,451pts as it was buoyed by the price of crude oil, which reached a five month high.
Bakery group Finsbury Food group (FIF), was the day's biggest climber, jumping 4.4% to 67p ahead of its interim trading figures, set to be announced on Wednesday morning.
Tesco (TSCO), which is also set to announce results on the same day, also made progress, if more marginal, rising 0.5% to 238p.
Other risers over the day included McBride (MCB), up 3.8% to 104p, Eagle Eye solutions (EYE), up 3.5% to 148.5p, and Purecircle ltd (PURE), up 2.6% to 272p.
Takeaway delivery operator Just Eat (JE.), was one of the big fallers, sliding 4.3% to 738p, after a Barron's article suggested the company could face a host of problem's which will eat into growth.
Other fallers included McColl's (MCLS), down 3.1% to 79.2p, Stock Spirit Group (STCK), down 2.5% to 217p, and Cake Box (CBOX) down 2.2% to 156.5p.