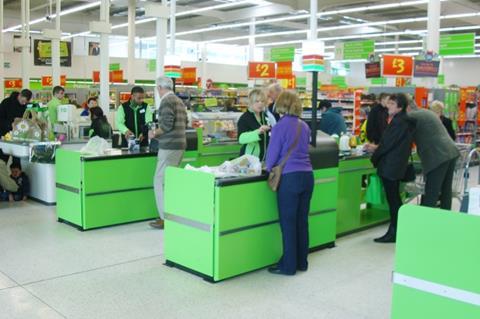 UK food store sales experienced the sharpest drop in quantity bought since 2016 in December – falling 1.3%.
The same drop in sales from supermarkets and specialist food stores for the month was last recorded three years ago, according to official figures from the Office of National Statistics.
Over the three months to December 2019, the volume of sales across food stores was down 0.6% on the previous three-month period.
Overall, UK retail sales volume fell 0.6% in December compared to the previous month, marking the fifth consecutive month of 'no growth'. Over December 2018, however, sales volume was up 0.9%, with value rising 1.5%.
On a three-month basis, sales volume rose 1.6% year on year despite a strong 2.2% decline recorded by department stores.
"December was tough for UK retailers, with the expectation of the festive ringing of tills falling short of the mark," said head of retail and wholesale at Barclays Karen Johnson.
"However, we can't escape the fact that both the value and volume of sales in this period have clearly increased year on year, and whilst the 'golden quarter' might have underperformed in comparison to the rest of 2019, now is not the time to be downbeat as there are still positive signs for retail businesses."
Johnson added that in 2020 consumer confidence is set to "remain muted" with retail spend to "continue to plateau".
However, she listed "some settling political stability" and the "growing influence of sustainability" as non-market factors expected to positively contribute to the year.
The poor performance reported among food retailers follows a raft of disappointing Christmas trading updates released from the mults in the past weeks.
Morrisons emerged as the biggest loser, with sales over the "crucial" period falling 1.7%.
With total sales falling by a mere 0.4% Tesco had little cause for celebration, while Sainsbury's sales nudged up 0.4%.
Lidl emerged as the winner after reporting an 11% jump in sales, while rival Aldi announced a record Christmas with revenues surging 8%.