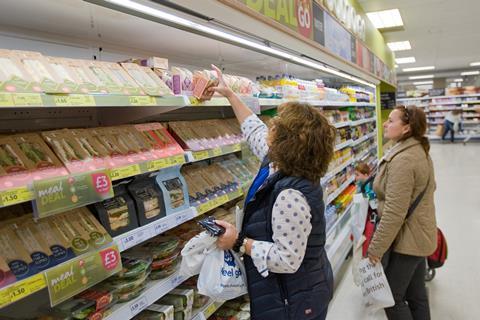 The UK food-to-go sector is on track to be worth £23.4bn by 2024, more than doubling the growth rate of the wider food & grocery retail market.
The food-to-go channel is set to grow by 26.5% over the next five years according to new research from IGD, with the wider food retail sector rising 12.5%.
"Food-to-go remains a key growth opportunity for businesses, and one that appears particularly attractive given the structural and growth challenges being faced by UK supermarkets and hypermarkets right now," head of shopper at IGD Rhian Thomas said.
"While there continue to be good opportunities for growth in this area, the gap will continue to grow between those businesses who are actively targeting food-to-go growth and those who simply want a presence in the channel."
According to IDG, convenience retailers, such as Spar, Co-op and Tesco Express, will achieve market share of 16.1% in 2024 with sales rising to £3.8bn from £2.9bn in 2019.
Coffee specialists, featuring Costa, Starbucks and Caffè Nero, will have a 18.2% share in the market, with sales of £4.3bn by 2024.
Meanwhile, food-to-go specialists, with the likes of Greggs and Pret a Manger, will record a 0.1% market share dip to 26.9% despite sales rising to £6.3bn from £5.0bn.
Fast food chains will also report sales increase, up to £7.2bn in 2024 from £5.8bn, despite "greater focus on healthier eating", IDG said.
Meanwhile, IDG believes supermarkets will lose market share, down to 7.8% from 8.1%. Sales are expected to rise to £1.8bn from £1.5bn.
"While IGD's wider food retail market forecasts show continuing challenges for the supermarket and hypermarket channel, most of us still do a large portion of our food and drink shopping at these types of stores, meaning there is still much to play for," Thomas added.
"Expanded food-to-go and foodservice zones are a key strategy for these retailers to bring more shoppers into stores and encourage them to spend more while they're there."