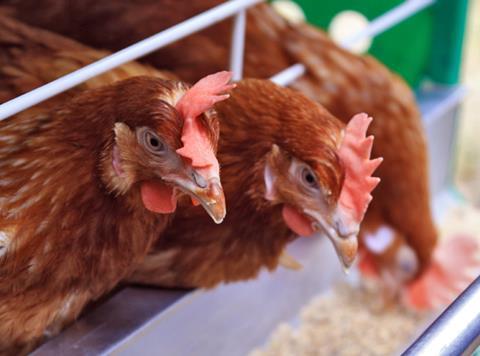 The poultry industry has insisted UK chickens will not suffer as a result of government plans to scrap statutory animal welfare codes.
The government this weekend confirmed plans to revoke statutory animal welfare codes and move to industry-led guidance. The chicken code will be the first to be revoked and replaced with industry-led guidance on 27 April, followed by codes for other livestock sectors.
Although there will be no changes to animal welfare legislation or the penalties that apply for mistreating animals, campaign groups have warned giving industry free rein to determine guidance on how to comply with laws would "dilute" standards and lead to fewer prosecutions for animal cruelty.
But the British Poultry Council insisted it had protected the "integrity" of the code, and claimed the new chicken guidance would provide just as good, if not better, protection for UK birds.
"This move towards expert-led guidance will ensure that welfare is, and will continue to be, paramount in livestock production," BPC chairman John Reed told The Grocer.
"We have strengthened and updated the code using scientific evidence. As always, we will continue to work with Defra and other stakeholders to keep this under review as knowledge and understanding of welfare develop."
Reed pointed out Defra lacked the resources to review a large number of the now "outdated" statutory codes itself, and said the new chicken guidance had been produced at a "significant" cost to industry.
Organisations had had the opportunity to comment on the new guidance during a Defra consultation on the welfare code reform, and the Farm Animal Welfare Committee was "satisfied" with its content, he added.