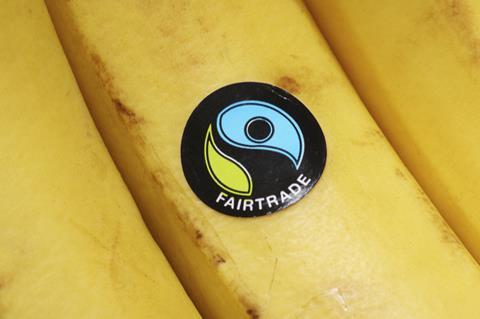 Ethical or sustainable grocery products tend to cost more to produce, so are typically slightly more expensive to buy.
It's a tough choice for shoppers in times of such economic uncertainty, but it appears a growing number of Brits consider themselves to be an ethical or sustainable shopper and are willing to pay more for brands they trust to have strong ethical and sustainable credentials.
But what is a fair price to pay for products that help people and the planet? According to new research we commissioned, more than a third of shoppers (39%) said a price premium for ethical and sustainable groceries of up to 10% was fair.
It's great to see more shoppers prioritising planet over price, but more needs to be done to educate consumers on why it's worth spending the extra money.
By choosing Fairtrade products, for example, the extra few pence on a pack can help a child get an education, supply a hospital with medical equipment or top up pension pots for the elderly. The Fairtrade mark was born 25 years ago this year and it seems awareness is growing. It came top in a list of ethical accreditations that consumers recognise and 62% said they actively looked for the logo when shopping.
Our research also revealed in which grocery categories shoppers are willing to pay more for ethical or sustainable products: hot beverages was the most popular answer. With more calls for transparency in the sector and the spotlight on plastics in teabags, this is no surprise, but too many people are still choosing the cheapest tea available.
While demand for ethical and sustainable products is increasing, price is still a barrier for many. More than half (52%) our survey respondents said that price parity with non-sustainable or non-ethical goods would persuade them to buy more ethical and sustainable products, while 35% said clearer labelling would help and 47% felt wider availability would make a difference.
There are more ethical superstores springing up, making products easier to find, but consumers have to make a special effort to go there rather than incorporate ethical or sustainable products into their regular weekly shop. The recent Organic September activation in Sainsbury's through the Soil Association that helped consumers understand the importance of organic, and Waitrose's dedicated virtual B Corp shelf, have been key in highlighting which brands make ethical or sustainable products, making it easier for consumers to make an informed choice.
And consumers want to be able to make that choice. TV shows with a strong environmental message like the BBC's Blue Planet have prompted over a third (37%) of Brits to think more sustainably, and more than half of people who buy ethical and/or sustainable products do so because of concern for the environment. It's driving more people to act. From reducing food waste, eating less meat or dairy or recycling more rubbish, people are starting to take small actions to reduce their environmental impact.
Buying more ethical and sustainable products is just another small step that consumers can take, which can make a huge difference. Sustainability is a journey that we all must get on board with if we want to protect our planet for future generations.