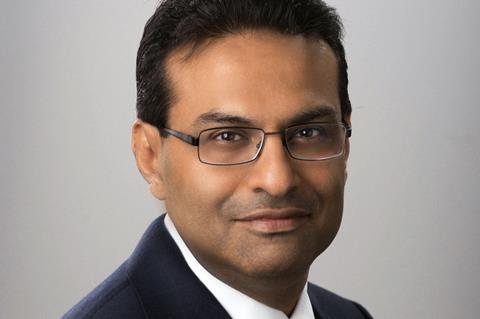 Top story
Reckitt Benckiser (RB) has announced that PepsiCo executive Laxman Narasimhan will succeed Rakesh Kapoor as chief executive
Narasimhan will take the role from 1 September, joining from PepsiCo where he is global chief commercial officer, responsible for the group's integrated long-term growth strategy.
He has been a member of the PepsiCo executive committee for the last four years reporting to the chairman and chief executive.
He leads strategy, global category groups, global R&D and is implementing an advanced digital capability across the PepsiCo business.
He will join as CEO-designate and take up his appointment as an executive director on 16 July. He will also directly lead the health business unit.
As CEO he will earn £950,000 salary plus benefits from 1 September.
Chris Sinclair, chairman, said the board prioritised four main criteria in its selection process: operational leadership at scale and cultural fit; strong consumer orientation and relevant experience in Rickett Benckiser's categories; strategic capability to lead the business into the next decade under RB2.0; and commitment to its purpose and corporate responsibility.
"Laxman is an outstanding leader who brings wide experience across the consumer goods sector, both operationally at scale, and from his time at McKinsey. He has led complex operational businesses and inspired teams across developed and emerging markets to achieve market-leading performance," Sinclair said.
He had exceptional strategic capabilities and consumer insight with a proven track record in developing "purpose-led brands and driving consumer centric and digital innovation".
"This, combined with his excellent people engagement and leadership skills, gives the board confidence that he will continue to evolve the strong culture of RB and deliver outperformance."
Morning update
Lidl has announced a new £500m expansion plan to grow its London store estate.
The investment is planned for the next five years and will help the retailer expand across the capital, adding a further 40 stores to its existing estate of 88 outlets within the M25.
These new store openings, including Alperton, East Acton, Hackbridge and Watford, will also create around 1,500 additional jobs across Greater London in the long term.
Lidl has also revealed plans for a new store in Fitzrovia, on Tottenham Court Road, near Warren Street tube station. This will be Lidl's most central London store and with a 1,300m² sales area, will stock its full range of products.
Included within Lidl GB's London investment plan is its new head office, the construction of which has already begun in Tolworth, south west London to house the retailer's 800 head office employees.
The supermarket recently confirmed that it would also be expanding operations at its distribution centre in Belvedere, which services Lidl stores across South London. Investment in the warehouse, which first opened in 2001, will further support the discounter's growth in the capital.
Christian Härtnagel, Chief Executive Officer of Lidl GB, commented: "It's coming up to 25 years since we first launched in London, and in that time we've grown to almost 90 stores, employing more than 5,000 people. London is at the heart of our growth plans across Great Britain, and we are proud to be in a position where we're continuing to create new jobs. Our £500 million investment reflects the scale of opportunity we have to bring our quality produce to even more of the capital's communities, at prices that make it affordable to everyone."
British American Tobacco (BATS) has said new product launches and a sharpened focus on priority markets and products are expected to drive stronger 'new category' growth in the second half.
Jack Bowles, chief executive, said in a first half pre-close trading update said the business continued to perform well, with group full-year guidance unchanged, the statement said.
Combustibles continued to perform strongly, driven by the growth of strategic brands and good pricing.
It said first-half new category revenue growth was approaching the group's full-year guidance range, with an expected acceleration in the second half – leading to full-year growth around the middle of the 30-50% range on a constant currency basis.
The US business was performing well with good pricing and continued value-share growth in an industry expected to be down 4-5% on a volume basis for the full year.
Bowles said: "We are creating a stronger, simpler business and driving a step change in New Categories, built on the foundation of a strong Combustible business.
"With our focus on building global brands, we intend to consolidate our new category portfolio into fewer brands. Our Strategic Brands continue to take share, while new product launches and a sharpened focus on priority markets and products are expected to drive stronger new category growth in the second half."
The group was on track for a good performance in 2019 with revenue and adjusted operating profit growth in line with its guidance and delivery of high single-figure, full-year adjusted diluted earnings-per-share growth at constant rates of exchange.
Science in Sport (SIS) has announced that chief financial officer Elizabeth Lake, will leave on 10 September.
Lake has been approached to join another, as yet unidentified, business.
The premium performance nutrition company said it had started looking for a replacement.
The business said trading across the group in the year to date was in line with board expectations.
The integration of last December's acquisition of the PhD brand was firmly on track, it said.
On the markets this morning, the FTSE 100 fell 0.5% in early trading to 7,365.4pts.
Early risers include McColl's Retail Group (MCLS), up 1.8% at 82.4p, Premier Foods (PFD), up 1.2% at 34.9p, PayPoint (PAY), up 1% at 1,066p and Fevertree Drinks (FEVR), up 9.9% at 2691p.
Fallers so far today include British American Tobacco (BATS), which shed 2% at 3,009.5p following this morning's update.
Majestic WINE (WINE) fell 1.2% to 287.5p, Reckitt Benckiser Group (RB) dropped 1,09% to 6,325p after it announced the appointment of a new chief executive, Wynnstay Group fell 1% to 314.5p, and Imperial Brands (IMB) slipped 0.9% to 0.9%.
Yesterday in the City
Retail jobs fell 2.5% between the first quarter of 2018 and the first quarter of this year, the latest Office for National Statistics figures show
Some 79,000 jobs were lost during the period. Total jobs in the UK increased by 589,000 jobs in the UK – up 1.7%.
Kyle Monk, head of retail insight and analytics at the British Retail Consortium, said: "It has been a turbulent year, with many well-known brands disappearing from our high streets, as has been evidenced by the substantial loss in retail jobs this quarter. Political and economic uncertainty has compounded many of the challenges created by the pace of technological change.
"Nonetheless, retail remains the largest private employer in the UK, offering over 3m jobs, or almost 9% of the total jobs in the UK economy. Many of the retail employment opportunities are offered in economically marginal areas and are taken by people who need to be able to work flexible hours and near to home."
Sky-high business rates had made it harder for shops to make much-needed investments in their physical and digital offerings and it was time for the government to act.
"Indeed, if they were as fast to act over the tens of thousands of retail jobs that have been lost in the last year as they are over smaller losses in manufacturing, then we might see a revival of our high streets, and the communities they support," said Monk.
The FTSE 100 closed up 0.3% at 7,398.5p.
FTSE 100 fallers included Stock Spirits Group (STCK)m down 3.2% at 230p, Finsbury Food Group (FIF), off 2.7% at 71.5p, SSP Group (SSPG), down 2.1% to 660p and PureCircle (PURE) down 2% to 269.5p.
Stocks on the up included Just Eat (JE), up 4% to 619p, DS Smith (SMDS), up 3.4% to 343.9p, Applegreen (APGN), up 2.9% to 469p and Majestic Wine (WINE), up 2.8% at 291p.