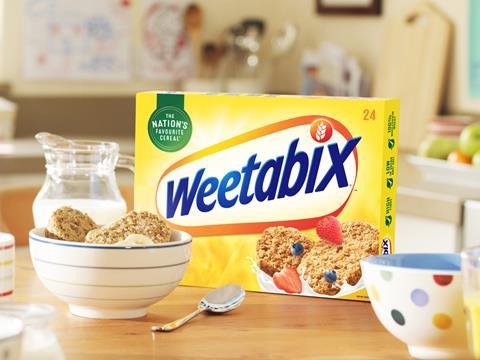 Top story
Profits at Weetabix dipped ahead of its £1.4bn sale to US group Post Holdings amid "management distraction" around the sales process and rising costs, according to newly filed accounts.
Documents at Companies House for Weetabix Ltd show gross profit margins slid from 40.4% in 2016 to 34.2% in a shortened nine-month financial period to 30 September 2017.
The period, which encompassed Post buying Weetabix from China's Bright Food for $1.8bn in July 2017, was 'dominated by the sale process', according to the accounts. The sale 'inevitably caused some management distraction, which is reflected in the financial performance'.
Weetabix attributed declining margins to increased promo costs as own label continued to take market share from branded players in cereal, and higher costs.
Operating profits before exceptional items fell to £38.8m from £84.1m, representing a pro-rata drop of 38.5%.
However, total sales improved by 2.9% on a pro-rata basis over the nine-month period to £241.8m, as Weetabix gained share.
It said cereal consumption in the UK showed a small increase during the period, but the greater emphasis on private label products meant value in the sector was broadly flat year on year.
Click here for the full story.
Morning update
Bulmers maker C&C Group (CCR) has completed the refinancing and enlargement of its bank facilities.
The new facilities comprises of a five-year multi-currency revolving credit facility of €450m, and a 3-year loan of €150m.
Earlier this month the supplier and distributor announced that improved weather helped Bulmers sales back into growth after strong competition from Heineken exerted downward pressure.
"This transaction secures increased facilities for the enlarged Group with both the flexibility and scope to meet our long term corporate objectives," said C&C Group CFO, Jonathan Solesbury.
Following the significant strategic developments we have made, it was pleasing to agree attractive terms on the new facilities both from our long standing banking partners and new lenders to the syndicate."
The company is transitioning after recently acquiring pub chain Admiral Taverns and wholesaler Matthew Clark Bibendum in the aftermath of Conviviality's collapse.
Elsewhere in the drinks industry, Captain Morgan has sailed past Bacardi to become the nation's favourite rum brand.
Sales across Captain Morgan's portfolio of rums surged by £7.8m to £123.2m over the past 12 months, with £6.9m of that growth coming from its Spiced flavour, The Grocer's Britain's Biggest Alcohol Brands 2018 report reveals.
Bacardi's sales, meanwhile, have fallen £6m to £111.3m, with £4.5m disappearing from its flagship Carta Blanca SKU.
Rum sales have skyrocketed over the past year. According to WSTA figures, sales in the UK broke the £1bn mark over the 12 months to 24 March 2017, while value and volume sales rose 31% and 16% respectively over the past four years.
Stella Artois remains the UK's top drinks brand following 1.5% growth to £533.3m sales, ahead of Smirnoff and Budweiser, second and third respectively.
The markets have once again shrugged off trade fears this morning, as the FTSE 100 rose 0.7% to 7,708pts.
Early risers this morning include Paypoint (PAY), up 1.8% to 969p, Diageo (DGE), up 1.4% to 2,831p and Britvic (BVIC), up 1% to 795p.
It's been a pretty positive morning with very companies dipping. Only Tate & Lyle (TATE), down 1.5% to 658.6p and Premier Foods (PFD), down 0.2% to 46p, have fallen so far.
Yesterday in the City
The FTSE 100 rebounded as a US President Donald Trump arrived in the UK, jumping up 0.8% to 7,651pts, with the unveiling of the UK-Brexit white paper helping the value of the pound.
Ocado Group (OCDO), dubbed again the "Microsoft of retail" this week, was the laggard of the day in the blue chip index as it dropped 2.7% to 1,018p.
Fashion retailer Asos' shares dropped by 11% after it missed its sales forecast, telling investors its growth will be at the "lower end of expectations".
Other fallers in yesterday's trading, included Patisserie Holdings (CAKE), down 4.1% to 418p, brewer Marston's (MARS), down 1.7% to 99p and Total Produce (TOT), down 1.5% to 190p.
B&M European Value Retail (BME) jumped 2.2% to 423.3p after it reported a 21.3% jump in first quarter group revenue, driven by new store openings, international growth and a small rise in organic sales.
Other successes in yesterday's trading included McBride (MCB), up 4.5% to 131.6p, Compass Group (CPG), up 3.1% to 1,649p, Premier Foods (PFD), up 2.4% to 46.1p and Kerry Group (KYGA), up 2.3% to 92.5p.