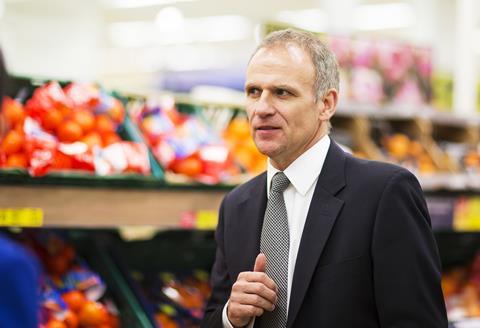 Tesco chief executive Dave Lewis is to sweep 20% of its 40,000 products off the supermarket chain's shelves. Andrew Yaxley, the chief product officer, told suppliers last week that Tesco plans to slash its range further as it fights back against German discounters Lidl and Aldi. (The Times £)
"Sainsbury's shares sink to 30-year low as merger with Asda is halted" (Mail on Sunday). The shares hit rock bottom on Wednesday night to close at £2.09, the lowest since 1989. The report says it represents a rebuke of chief executive Mike Coupe and his board's "strategic miscalculation". The report says some analysts have pencilled in a recovery from the current price but others fear the shares could slip to below £2 each.
The Sunday Times £ Rich List once again identifies the nation's wealthiest tycoons and individuals. Among the big-hitters are Charlene de Carvalho-Heineken and Michel de Carvalho worth £12bn, Guy, George and Gallen Jr Weston and Family, worth £10.5bn, Hans Rausing and family, worth £9.6.6bn, Sir Anwar Pervez and family, £3.534bn, Glenn Gordon and Family, £2.882bn and Alki David and the Leventis family, £2.6bn.
The Guardian and Sky News are among those that play on Philip Green's loss of billionaire status, falling from 66th to 155th in the rankings with a fortune of £950m, compared with £1.05bn previously. The BBC notes that Kirsten Rausing, part of the Rausing family which was behind the Tetra Pak drinks carton empire, is the highest-ranked woman on the list, alongside her brother Jorn Rausing in sixth place, with a combined estimated wealth of £12.256bn. It also points out that Scotland's richest person is Glenn Gordon and family, the tycoon behind William Grant & Sons.
Tesco, Waitrose, Sainsbury's and Nestlé will pledge to help halve food waste by 2020, environment secretary Michael Gove will announce at the Step Up To The Plate event in London today, reports Sky News. They will join about 300 that will adopt a package of commitments.
The Recycling Association identifies what it considers some of the worst examples of packaging waste during a tour of Hertfordshire supermarkets, including Tesco in Potters Bar where the fruit and vegetable aisles are full of produce wrapped in plastic, reports The Guardian. It criticises Marks & Spencer's film windows on its sandwich boxes and Lid's version of Kellogg's Pringles – Snaktastic. It names six of the worst: Tesco's Ripe and Ready Conference Pears, Caprisun pouches, Snaktastic tubes, M&S sandwiches and sausage rolls and Lidl Deluxe pork sausages.
Philip Morris's new insurance brand Reviti is offering smokers a 25% discount on premiums for life cover if they switch to its IQOS heated tobacco device for three months, prompting accusations that it is using its insurance to tempt smokers onto its own products rather than switch to potentially less dangerous alternatives. (The Daily Mail).
Imperial Brands has slammed rival Juul as providing "almost…a legal high" rather than an alternative to smoking for leading to increased vaping scrutiny by the Food and Drug Administration. (The Daily Telegraph).
Just Eat's board needs to deliver, writes The Times (£). The takeway delivery service has had no chief executive for almost four months. Its rivals are salivating
Smol, a detergent subscription start-up founded by two former Unilever employees, are battling a "copycat" service from their previous employer. Smol makes laundrypods that it says are smaller and more concentrated than other main brands on the market (The Times £).
Springboard figures show a slowing in the decline of visitors to high streets last month thanks to the sunny Easter weather. High street footfall fell 1% last month compared with the previous year when it fell by 4% (The Times £).
Ontario-based Shopify wants to conquer the cannabis market globally, reports (The Times £).
Is Kraft Heinz Warren Buffett's biggest mistake in 60 years, asks The Sunday Telegraph. Some are asking whether the "old Sage of Omaha" is losing his magic touch.
Harper Dennis Hobbs has named Shields Road, Newcastle, "the worst high street in Britain in its "vitality index". It claims 19% of the retail units are vacant – twice the national average. (The Guardian).
The story of Levi Roots', the entrepreneur who rose to fame on Dragons' Den with his Reggae Reggae sauce, is to have his life story portrayed on the big screen, says The Guardian. The film will tell how he went from a child in Jamaica who was too poor to buy shoes and could not read and write when he emigrated to Britain aged 11, was later sentenced to nine years in prison for drugs offences, to turning his life around, and building a Caribbean food and drink empire worth £35m.
Stobart is likely to name David Shearer as its new chairman alongside its annual results this week, reports Sky News. He will replace Iain Ferguson.
Labour leader Jeremy Corbyn has vowed to extend its plans for a higher £10-an-hour minimum wage to include workers under the age of 18, if he gets into power, reports the (BBC).