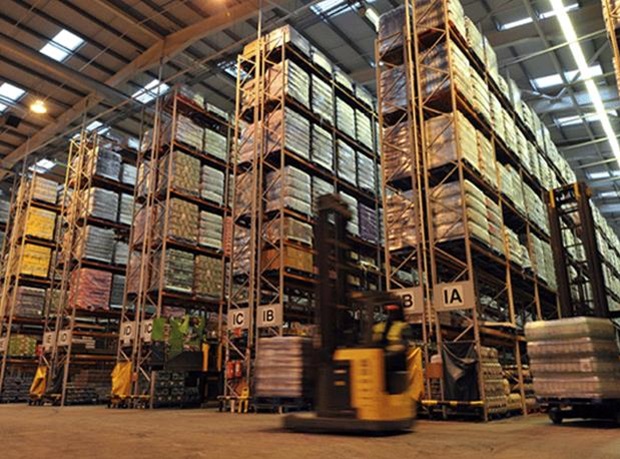 Supermarkets are preparing to introduce rationing for online shoppers to prevent panic buying in the event of a no-deal Brexit, The Sunday Times (£) has revealed. Sainsbury's has begun drawing up plans to restrict the quantities of some goods that can be ordered online in an effort to stop consumers stockpiling. The plans have been decided amid claims that supermarkets' food stocks could be depleted within just four days – with shoppers facing almost empty shelves within five days of a no-deal Brexit. "With limited storage space, online rationing is among a number of measures that are being considered to help mitigate the effect of a no-deal Brexit," a source familiar with the plans said.
Marks & Spencer is under mounting pressure to slash prices in order to stop the rot in its food business (Daily Mail). The high street stalwart plans to open new superstores to try and bring families in for the big weekly grocery shop – pitting M&S against the likes of Sainsbury's and Tesco. It will also start selling its food online for the first time next year after it bagged a £1.5bn deal with online food delivery company Ocado.
A massive bonus scheme which could see Ocado boss Tim Steiner pocket up to £100m is 'excessive' and should be rejected by shareholders, according to an influential investor group. The payouts, revealed by The Mail on Sunday, are based on the online grocer boosting its share price over the next five years. Steiner's payout is capped at £20m a year and four senior executives could each get a maximum of £5m a year.
Sainsbury's has hit back at the competition regulator's adverse provisional findings on its proposed merger with Asda, accusing it of making basic mathematical errors and of issuing flawed and inconsistent results (The Times £). In its response to the Competition & Markets Authority's report, Britain's second largest grocer says that the regulator made a series of mistakes. It claims the CMA has "double-counted" Asda convenience stores and incorrectly counted Asda Living stores, which typically are 33,000 sq ft and do not sell grocery items, as convenience stores.
KPMG, the administrator for scandal-hit café chain Patisserie Valerie, has revealed that its forensic accountants found a £94m black hole, more than double the previous £40m estimate (Telegraph £). In its latest report the accountancy firm said Patisserie Valerie, which collapsed into administration in January, falsely claimed to have £54m in cash and that its assets were valued £23m higher than they were. The company plunged into administration after it was unable to secure new bank finance following the discovery of "potentially fraudulent" accounting irregularities (The Guardian). Accounts produced for Patisserie's management last August showed net assets of £108m when in fact the company had assets of only £14m and implied trading losses of £21m, according to KPMG (The Times £).
Patisserie Valerie shareholders are threatening to take the collapsed chain's administrator KPMG to court to get hold of a devastating report alleged to show how the company's cash balances were artificially inflated (Telegraph £).
Discount retail giant B&M Bargains is attempting to wriggle out of strict rules designed to stop major chains exploiting food and drink suppliers (Daily Mail). The company, which has about 600 stores and annual sales of £2.6bn, claims a decision to force it to sign up to the Groceries Code Adjudicator would lead to 'irreparable financial harm'. GCA rules ensure that major companies make timely payments to suppliers and that the correct procedures are followed when contracts are terminated.
'Tesco's Dave Lewis finds his discount dream is not all right, Jack,' write Sam Chambers and Liam Kelly in the Sunday Times (£). 'Lewis has committed to opening 15 stores within the first year, but after eight were opened in the first three months, none have been opened since. Tesco said more stores would be opened in the coming months and that customer feedback so far had been very strong.'
The £1bn food giant that runs Domino's pizza in Britain has been accused of misleading the City over the state of relations with the powerful franchisees who run most of its 1,100 stores (The Sunday Times £). Domino's Pizza Group, run by former Tesco executive David Wild, received a letter from a group of angry store owners last week. It warned that comments suggesting a resolution to an ongoing dispute could be found were 'extremely misleading', because Wild and the board were 'at total odds with the franchisees'.
Prestat, the UK chocolatier said to be an inspiration for Roald Dahl's book Charlie and the Chocolate Factory, has been bought by Italian coffee and chocolate dynasty Illy (Financial Times £). Riccardo Illy, president of Gruppo Illy, the division of the Italian family company that already owns chocolatier Domori and Dammann Frères teas, said he had been wooing Prestat for two years.
'Northern Irish farmers are urging the DUP to back May's Brexit deal,' writes Arthur Beesley in the Financial Times (£). President of the Ulster Farmers' Union, Ivor Ferguson, is campaigning to get the DUP to support Mrs May's agreement. 'By far the vast majority of our members support the prime minister's deal,' he said. 'We as farmers have bank managers to report to and that's our main concern.'
Rising costs continue to weigh on profit margins at pub operator JD Wetherspoon, after it decided to increase staff wages last year (Financial Times £). The pub group said on Friday that its pre-tax profits had fallen 11% in the six months to the end of January, stripping out exceptional items, to £48.6m. This was in spite of a 7% increase in revenue to £889.6m. The boss of JD Wetherspoon admitted the pub chain had "reached the limits" of its rapid expansion as a higher wages bill hit profits (Telegraph £).
A jump in Italy's high-quality olive oil prices in the face of a sharp fall in output is proving bittersweet for the country's olive growers, some of whom have been forced to abandon their farms because of a deadly tree disease and unseasonal frosts (Financial Times £). Italian olive oil prices have surged after production in 2018 more than halved from the previous year to 185,000 tonnes, according to the state-backed Institute of Services for the Agricultural and Food Market.
Shares in the Restaurant Group were on track to make their biggest gains in two years on Friday morning after the company beat expectations with its full-year results (Financial Times £).
'The balance of power is shifting between the biggest US retailers and their main suppliers,' write Alistair Gray and Shannon Bond for the Financial Times (£). 'New industry data show retailers such as Walmart, Costco and Target are boosting sales of their own products almost four times faster than famous American brands, winning over consumers with high quality goods at low prices.'
A Willy Wonka-style hunt for nearly 800 white Cadbury Creme Eggs with cash prizes of up to £10,000 has been criticised for encouraging obese youngsters to gorge on chocolate (The Times £).
Kraft Heinz is investing in its products and in innovation, says its boss in Europe, the Middle East and Africa (The Times £).
Junk food advertisements would be banned from Facebook and Google before 9pm under government proposals to fight obesity, specifically in children (The Times £). Children's taste buds are being altered by a bombardment of junk food adverts, the country's chief medical officer has warned, as ministers pledge to crack down on Facebook and YouTube promotions (Telegraph).
Analysts took a bite out of Greencore on Friday, warning that the salad and sandwich maker's customers were thinking twice before grabbing their food on the go (The Times £).
'Goodbye beans on toast as UK families turn to recipe kits,' writes Rob Walker in the Observer. 'The subscription dinner boom puts five million meals a month on the table.'
Biodegradable coffee cups are being 'grown' from fruit by an innovative design company in a bid to cut down on plastic waste (Telegraph). The reusable cups are made from gourds, a fruit in the pumpkin family, which are grown inside 3D printed moulds to make them the perfect coffee cup shape when picked.
Trouble is brewing in the normally convivial world of beer making, with an unseemly fracas developing over pending reform of the tax breaks that have fuelled the huge growth in the number of small brewers (The Guardian).
Amid nightmare predictions of Brexit-induced food shortages, importers are working hard to ensure that drinkers will at least never be short of a cold glass of prosecco (The Times £). Since October a quiet stockpiling operation has been going on, and up to 20 million bottles have been imported and stored in case a hard Brexit should send customs rates soaring or cut off the supply altogether.
Watercress growers, alarmed that teenagers and young professionals are snubbing their produce, have decided to fight back with an image makeover for the leafy green (Telegraph £).
Following on from beetroot burgers and jackfruit curries, the next star of the vegan 'meat' world hails from the gardens of south-east Asia and looks somewhat like an artichoke (The Guardian). Banana blossom, also known as a 'banana heart', is a fleshy, purple-skinned flower, shaped like a tear, which grows at the end of a banana fruit cluster.
Airline passengers have been banned from drinking duty-free wine and spirits on flights because of growing concerns over alcohol-fuelled air rage, The Times (£) has revealed.
Debenhams must raise emergency funds by the end of this week or the ailing chain could face administration (Telegraph £). Without a refinancing of its debt mountain and access to fresh capital, the embattled retailer will be unable to pay a looming £50m quarterly rent bill.