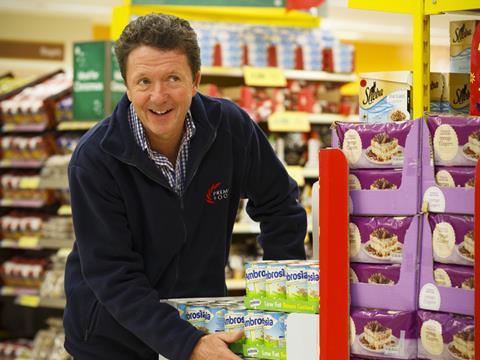 The second-biggest shareholder in Mr Kipling-maker Premier Foods has called for the removal of chief executive Gavin Darby as part of its campaign against the leadership of the highly indebted company (Financial Times £). Oasis, a Hong Kong-based investment group that holds a 9.34 per cent stake in Premier Foods, called for Mr Darby "to be removed with immediate effect following years of persistent shareholder value destruction, poor financial performance, consistent missed targets, a lack of strategy and weak corporate governance" (The Times £).
Premier Foods bosses are launching a charm offensive in the City to try to defuse the shareholder revolt against chief executive Gavin Darby. Keith Hamill, chairman at the company, is organising dozens of meetings with investors over the next two weeks following the demands for Darby's scalp (Daily Mail).
Iain Dey in The Times (£) writes: "The charge sheet laid by Oasis is brutal, some might say. Yet it is accurate. Darby's last set of figures did show modest revenue growth, a trimming of net debt and a slight uplift of profits — and the debt-laden mess he inherited was an almighty one. Viewed through the lens of long-term investors, however, his reign has been disastrous."
Chris Edwards, the founder of Poundworld is trying to buy back 186 of its stores from administrators in a bid that would save 3,000 jobs. The former market trader who sold Poundworld to the private equity firm TPG for £150m three years ago, is understood to be in talks with Deloitte, which was appointed to handle the discount chain's collapse this month (Sunday Times £).
Hundreds of small suppliers could be placed in the firing line as supermarkets are expected to mirror Tesco's sweeping product review which has seen scores of brands stripped from its shelves (Telegraph).
Ben Marlow writes in the Sunday Telegraph that showboating MPs squandered the chance to quiz Mike Coupe and Roger Burnley properly last week. In the article he said, "this felt like a massive missed opportunity by politicians more concerned about elevating their own public profile rather than scrutinising a merger that could have a huge impact on the grocery industry and the food that ends up on our tables".
New laws to ban shops from offering special "two for the price of one" deals near supermarket checkouts for food high in sugar, fat or salt are to be introduced in an attempt to ease an obesity crisis that has made the UK the most overweight country in western Europe (The Guardian).
Whitbread boss Alison Brittain will be quizzed over the firm's plans for Costa Coffee on Wednesday when the group reports on first-quarter trading. Since the company confirmed plans to split with the Costa chain, it is understood that a clutch of private equity firms – including Bain Capital, CVC and TPG – are circling Costa opening the door to a potential £3bn sale (The Independent).
Takeaway food could become cheaper than home cooking by 2030 as robots take over preparation and deliveries are undertaken mainly by drones (Telegraph).
The UK pet food sector has been lifted by the recent success of premium brands, such as Lily's Kitchen. "Premium has seen the strongest growth in recent years — and driving that is pet parenting," said Nicole Paley, deputy chief executive of the Pet Food Manufacturers' Association (Financial Times).
Jim Armitage in the Evening Standard, writes that, despite Unilever's decision to be headquartered in Rotterdam as a result of Brexit, it is important to keep the consumer goods giant in the FTSE 100. He said there is a "growing clamour" in the city for the stock exchange to relax its rules that would bar Unilever from remaining in the index.
Asda, Morrisons and Sainsbury's have all cut the price of fuel for the second time in two weeks as wholesale costs fall (The Independent).
The Guardian reports, that with drinking rates among UK adults at its lowest since 2005, companies are falling over themselves to launch no or low alcohol ranges. Miles Beale, chief executive of the Wine and Spirit Trade Association, said "Low- and no-alcohol drinks represent a relatively small part of the entire market, but demand is increasing every year."