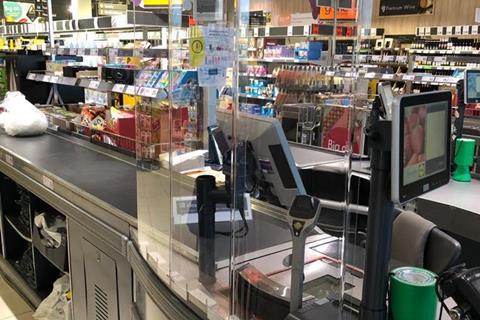 UK supermarkets, including Waitrose, Sainsbury's, Asda and M&S, have introduced measures to limit shopper numbers in their stores at any one time in order to enforce social distancing measures. Waitrose, the first to announce such measure, said restrictions will be specific to each store and marshals will manage queues outside (The Guardian). M&S has called them greeters, but their function will be the same, to limit shoppers to crowd supermarkets to maintain the 2 metre distance between each person (BBC).
The JLP-owned supermarket has also ordered checkout screens to protect staff at tills, following moves implemented by other retailers including Aldi and Lidl, Morrisons and Sainsbury's (Sky News).
Aldi will reward its staff in stores and warehouses with a 10% bonus after coping with the coronavirus outbreak. The award will be backdated to 9 March, the German discounter said, to reward staff who have been working "round the clock" to keep shelves stocked (The Telegraph).
Pharmacies have urged the public to only buy medicines they need to avoid "creating difficulties" for others as they are hit by panic buying across the UK (Sky News).
UK retailers will be hit hard by the coronavirus lockdown as they are forced to bring down the shutters. Despite the government pledging unprecedented levels of support, the retail industry's "fragile finances are about to come under intense strain" wrote the FT. Food stores will likely benefit from the crisis, while clothes and household retailers will be "hard hit" as the lockdown could cost them around £1.5bn of sales a week (The Financial Times £).
Deliveroo will begin delivering a range of M&S groceries – from franchise stores at BP - to help people who are self-isolating. Customers will be able to use the app to buy essentials, including milk, bread and ready-meals (The Times £).
The government is set to hire food service groups, such as Bidfood and Brakes, to produce boxes of groceries for the vulnerable (The Financial Times £).
Wheat prices have risen sharply across the world as consumers rushed to stock on dry pasta. The US benchmark rose 12% to $5.55 a bushel while Euronext wheat in Paris rose 8% to €186.75 a tonne. Data from Kantar showed UK sales of dry pasta have risedn 55% in the week ending 8 March (The Financial Times £).
This week's warm weather has come to the rescue of farmers, who had experienced devastating floods during the previous month, drying out waterlogged fields in time to rescue winter crops and allow for spring planting (The Times £).
B&M bargains has come under fire from its own workforce for maintaining its stores open under the premise of selling groceries, as shoppers flock to buy non essential items (The Times £).
Wetherspoon chairman Tim Martin said the pub chain cannot afford to pay wages until the government steps in with support. Martin denied "abandoning" its 43,000 staff but said until the company was reimbursed for their wages by the Treasure, Wetherspoon could not afford to pay them (The Guardian). In a video message, Martin told its staff they should feel free to take jobs at supermarkets like Tesco, which are going on a hiring spree to keep up with demand, while the pub chain remains closed (BBC). As other companies come up with creative solutions to help affected staff, Martin has come under fire for blocking staff pay while Wetherspoon pubs are closed (The Times £).
Burger King CEO Alasdair Murdoch has said the fast food chain will not pay rent due on its UK restaurants this week, as hundreds of high street businesses are set to withhold their quarterly rent payments to pay their staff (BBC).
As new government measures allow businesses to pay no rent for the next three months without forfeiting their leases, landlords start to fear they will struggle with their own costs and debt repayments (The Times £).
Banks have been inundated with requests for emergency loans after a government-backed scheme was launched this week, with small companied struggling to reach lenders as they seek access to the loans (The Times £). However, it could takes weeks before banks are able to process the requests, as staff at the major banks told small business owners they had not yet received instructions on how to deal with the government scheme (The Times £).
Associated British Foods has warned it would take a hit of hundreds of millions of pounds a month after it was forced to shut the doors of its fast fashion chain Primark due to the coronavirus outbreak. The company closed all 376 Primark shops – of which 189 in the UK – and said it would suffer a loss of around £650m of net sales a month from the closure (The Times £).
Chemicals firm Ineos – owned by Britain's richest man Sir Jim Ratcliffe - has pledged to build new production lines in just 10 days at its UK and German factories to produce millions of bottles of free hand sanitiser for the NHS (The Telegraph, The Guardian). Ineos made the announcement as the government lunched an appeal for firms to produce goods such as ventilators that are vital for the NHS as it grapples with the coronavirus crisis (Sky News). The company will make large bottles for hospital use and small pocket-sized ones for sale in supermarkets (The Times £).
As overfishing has depleted the numbers of wild fish available, the BBC asked whether one day we will be eating fish grown from cells in a factory (BBC).