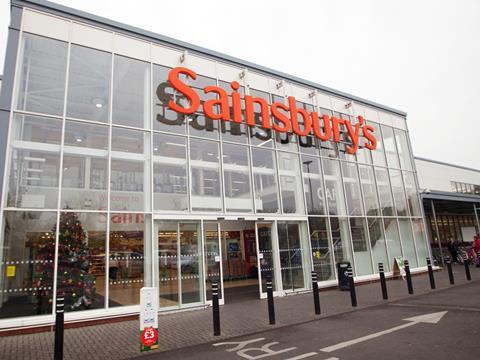 Sainsbury's has admitted to MPs it will cut management jobs as part of its £14.1bn merger with Asda, reports The Daily Mail. Mike Coupe, Sainsbury's chief executive, wrote to Rachel Reeves, chair of the Business, Energy and Industrial Strategy Committee, that "a very small number of well-paid managerial roles will be duplicated across the group". Reeves urged the competition regulator to look closely at the impact on consumer choice and jobs.
Iceland is hatching "active and aggressive" plans for new Food Warehouse stores, reports, The Daily Mail, It plans to add at least 30 a year. The format's managing director, Richard Walker said retailers were shedding space and Iceland was looking at "every one of those". The business is also adding "a few extra" Iceland's a year in the UK, the newspaper says as well as expanding the chain of 20 Iceland stores in Ireland to 50.
Which? readers have rated WH Smith the UK's worst high-street retailer, reclaiming the crown from Morrisons which came bottom last year, The Guardian and The Independent, the BBC and Sky News. Lush was voted the best retailer. John Lewis fell from joint third to 10th. WH Smith customers complained of out-of-date stores, expensive products and poor customer service.
Ocado, is posed to enter the FTSE 100 for the first time this week, says The Daily Mail. The online grocer's share price has surged from about 240p to 887p in the past six months, following deals for overseas supermarkets to use its robotic technology.
EU special status for regional food and drink has emerged as a new sticking point in Brexit negotiations, reports The Guardian. Meanwhile, the food and farming industry wants assurances from the government it will still be able to recruit enough staff from the EU after Brexit as part of a manifesto more than 100 organisations have sent to the prime minister, the BBC. The European Commission wants the British parliament to legislate to protect a few thousand protected food and drink products from copycats. The European Union wants the UK to adopt a near equivalent to its system of "geographical indications" – labels that protect a product linked to a region.
KFC has brought back Colonel Sanders in a new television advert which makes a tongue-in-cheek reference to the disaster that struck earlier this year when it suffered a logistics nightmare which led to hundreds of temporary restaurant closures and a shortage of chicken and other products, The Independent.
The Federation of Small Businesses has written to all FTSE 100 companies urging them to change the way they deal with their suppliers, the Financial Times (£) reports. The small business group said failure to tackle the practice of late payments to improve their own cash flow was "supply chain bullying, pure and simple". A survey of its members showed terms had deteriorated for more than a third over the past two years.
Landlords and rival retailers are revolting against Company Voluntary Arrangements which they view as an abuse of legal process, the Financial Times (£). Many of the criticisms have also been levelled at "pre-pack" administration deals, The Times (£). Both The British Property Federation and Revo are increasingly unlikely to approve CVAs, adds The Daily Telegraph. High street landlords are gearing up for war with retailers, says The Guardian. R3 said Wolverhampton and Aston universities' research indicated there needed to be a cap on CVA lengths, more time for companies to plan the arrangements, clearer roles for directors and CVA supervisors, more engagement from public sector creditors and the introduction of standard terms.
US retailers are clearing the way for "upstarts" in the feminine care sector to vie with mainstream giants of the menstruation market, such as Always and Tampax, amid increasing anxieties about common ingredients used in traditional disposable tampons and sanitary pads which health lobbyists said might be linked to higher rates of cancer and reproductive diseases, the Financial Times (£). Retailers, such as CVS and Target have expanded their range to include the likes of L, Seventh Generation and Sustain Natural.
New Zealand's dairy and beef industries are under threat from Mycoplasma bovis disease, prompting the government to announce a cull of more than 150,000 cattle, the Financial Times (£).
Edrinkton has opened The Macallan distillery and visitor centre, a £140m complex, in northeastern Speyside as sales of Scotch whisky rebound. Scotch exports climbed 9% to a record £4.36bn last year, the Financial Times (£).
Rum has reinvented itself, proclaims The Times (£) with annual sales in Britain topping £1bn for the first time.
The Daily Telegraph asks if it is too late for Archie Norman to rescue Marks & Spencer which it suggests might be "past the point of no return". The Observer reported on Sunday that M&S has turned to Richer Sounds founder Julian Richer for new ideas. Not enough humans, terrible customer service and no stock – it is not surprising the retail industry is in trouble, says The Daily Telegraph. "Would decent old M&S really be the latest casualty in the high street apocalypse," it asks.
Visa has hiked its fees, forcing shopkeepers to pay £1bn extra a year to the payments giants, reports The Daily Mail. "Experts" warned some small retailers would see their bills more than double and some could even shut. Payments consultant CMSPI, which plans to launch a complaint to the European Commission, said Visa Europe had doubled charges since 2015 from an average of 4p a transaction to 8p. MPs and business groups, including the Association of Convenience Stores and the British Retail Consortium, have urged regulators to step in.
PwC says drones could give Britain's economy a £42bn boost by 2030, with the biggest boost to output in the wholesale and retail sector, The Daily Mail.
The Observer this weekend came up with six reasons why Britain's retailers "can't make ends meet", using Westfarmers sale of Homebase for a token £1 as the hook for its story. The reasons are online rivals, rising costs, consumption fatigue, high-street decline, bad management and a spending squeeze, the newspaper says.
Britain's countryside hedgerows are "full of fairytale gifts", providing the botanicals for Hedgerow Gin, flavoured with wildflower hay, crab apple, nettle, dog rose and elder, and of course the sloe-bearing blackthorn, reports The Guardian.
UK farmers have warned of a soft fruit shortage with growers fearing strawberries will be left to rot as Europe's migrant workers stay away, The Observer reported at the weekend.
Deutsche Post has won a contract to deliver 200 electric trucks to doorstep delivery service Milk More, owned by German dairy group Theo Mueller, Reuters.
The UK could be approaching "peak prosecco" amid the smallest increase in sales since 2011, reports Sky News and the BBC. UHY Hacker Young research found 35.8m gallons of sparkling wine was sold last year, an increase of 5% on the previous 12 months. The accountancy group suggested prosecco might be suffering from brand overexposure because of overstocking at supermarkets.
The European Union has proposed a ban on straws and other single-use plastics. It also wants almost all plastic bottles to be collected for recycling by 2025, the BBC.