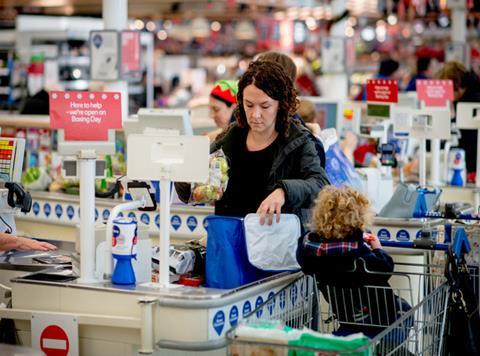 Top story
UK retail sales recovered in May as better weather brought consumers back onto British high streets, with sales growth at its fastest for more than four years.
Total sales rocketed up 4.1% for the month on May 2017, when sales had increased on 0.2% annually, with sales increasing at their fastest since January 2014.
Food sales saw their monthly best performance for five years, but total sales growth for the three months to May of 3.4% fell slightly short of the 12-month total average growth, according to the BRC-KPMG retail sales monitor.
Total non-food sales decreased at 0.5% for the three months to May, also slightly below the 12-month average. In-store non-food sales fell 3% for the period, but May itself saw an increase, with the best monthly performance since January 2016.
Improved weather conditions over the month, meant sales of items such as garden furniture and summer fashion ranges, recovered from April's downturn.
Online non-food sales also rocketed, as it grew 11.9% in May, against a comparable growth of 4.3% in May 2017.
There was strong growth across channels with stores seeing their best performance for 16 months, said British Retail Consortium chief executive Helen Dickinson.
"Retail sales in May saw their highest growth since January 2014 as better weather and the bank holiday effect led shoppers to buy from garden furniture and summer fashion ranges; recovering some of the ground lost in April," she commented.
"Food sales also stood out with the best single month's performance since July 2013. Encouragingly, growth was seen across channels as stores made a comeback with their best showing in 16 months.
"Despite this more positive set of sales results, the retail environment remains extremely challenging, with trend growth still very low by historical standards. Retailers remain focused on investing in new and exciting shopping experiences for the future as margins remain tight and the competition fierce."
Grocery sales continued to show good progress as the summery weather affected people's spending, said KPMG UK head of retail Paul Martin.
"Grocery sales once again continued to be strong, boosted by added enthusiasm for picnics and barbeques. Elsewhere, appetite for non-food categories, including fashion, also experienced a welcome uplift," he said.
"May provided a much needed uplift to retail performance delivering a respectable 4.1 per cent growth. Two bank holiday weekends, a Royal wedding and of course sunnier spells will have been the main drivers behind the apparent rebound, with both online and high street sales thankfully up overall."
Joanne Denney-Finch, IGD chief executive, food and drink sector performance, said: "Warm dry weather in May combined with the Royal Wedding provided excellent conditions for food and grocery sales; especially beers, wines and spirits.
"The World Cup in June could prolong this run, and if we are really lucky, into July. There has also been a moderate rise in shopper confidence. 26 per cent expect to be better off in the year ahead up from 23 per cent in April and 22 per cent this time last year."
Morning update
Distribution giant Stobart Group's boardroom quarrels continue, as it received a nomination for a new chairman from former chief executive Andrew Tinkler and Woodford Investment management.
Tinkler sparked anger at the company this week when he suggested he would vote against the re-election of the company's current chairman Ian Ferguson at its upcoming AGM.
A requisition has now been lodged by Tinkler for Philip Day to be appointed to the board either at the AGM or separate meeting, after which Day will be invited to become chairman.
Despite stepping down as chief executive in June last year, Tinkler still owns 7.7% of the group, and combined with Woodford and shareholder Allan Jenkinson controls 33% of the group.
Last week prices dived as the company's board released a statement criticising Tinkler's actions, saying they "posed serious risks to Stobart's board, would weaken corporate governance and distract management."
Meanwhile, Barclaycard's consumer spending report for May 2018 said spending grew 5.1% year-on-year.
The report echoed the BRC and KPMG findings, as it stated that in-store spending rose by 2.6 per cent as good weather encouraged shoppers to head out and about.
Non-essential spending rose by 4.6 per cent, its highest level of growth in more than a year, as garden centres, clothing and pubs performed strongly.
As a result of warmer weather, for the early May bank holiday consumers spent 10.1 per cent more in supermarkets compared to the same long weekend in 2017, according to the data.
It also recorded that supermarket spending grew 5.7% overall in May compared to the same period in 2017.
"Although a degree of caution remains, UK shoppers felt confident enough to let themselves enjoy the sunny weather in May," said director at Barclaycard Esme Harwood.
The FTSE 100 is slightly down in early trading, falling 0.02% to 7,739pts.
Early risers in the industry include Kerry Group (KYGA), up 2% to €91.70, Reckitt Benckisser (RB), up 1.4% to 5,896p and Coca-Cola HBC (CCH), up 0.8% to 2,626p.
Early fallers include Majestic Wine (WINE), down 2.5% to 427p, Premier Foods (PFD) down 1.4% to 40p and PayPoint (PAY), down 1.8% to 1,056p.
Yesterday in the City
The FTSE rebounded after last week's frustrations to rise 0.5% to 7,741pts, minimising recent trade war concerns as resolved political tensions in Italy and Spain helped to ease trading.
Birds Eye owner Nomad Foods yesterday announced it has agreed a deal to buy frozen potato and Yorkshire puddings brand Aunt Bessie's.
Nomad will acquire the business from William Jackson & Son for approximately €240m (£210m) in a deal that includes a production facility in Hull and around 400 staff.
In other acquisition news, Danish meat giant Tulip Food Company has agreed to acquire Dutch bacon producer Baconspecialist Zandbergen.
Stobart Group picked dramatically, jumping 7.2% to 229p, despite its ongoing boardroom row as the company's former chief accused directors of defamation.
Paypoint (PAY) also had a positive day, jumping 6.5% to 1,076p, on a day it announced new links with Nisa.
Other risers included McBride (MCB), up 4.6% to 135p, Diageo (DGE), up 1.9% to 2,770p and Devro (DVO) up 2.2% to 210p.
Packaging giant Smurfit Kappa Group suffered, as it fell 7.1% to 2,880p, amid worries United Paper could abandon its pursuit of the company.
Other fallers included Greggs (GRG), which tumbled 1.3% to 1,045p, Finsbury Food Group (FIF), which fell 1% to 124p and B&M European(BME) which fell 0.8% to 405p following positive results last week.