Asda has trounced its nearest rival by almost a tenner in this year's Christmas 33.

In our annual festive mystery shop, Asda came out £9.44 cheaper than second-placed Tesco. The gap to the other main supermarkets was even more stark - Asda was £15.75 cheaper than Morrisons and almost £20 cheaper than Sainsbury's, with Waitrose £29.58 dearer.

The Christmas 33 shopping list, including everything from turkey, sprouts and carrots to Champagne, crackers, whole chestnuts and even indigestion remedies, was secured by Asda by offering the cheapest prices on two-thirds of the basket.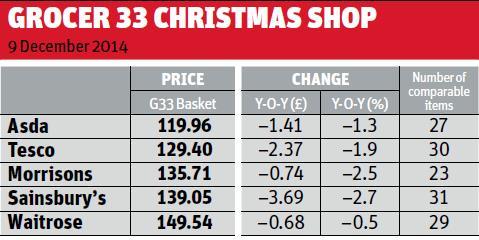 "We're delighted the 2014 Grocer 33 Christmas basket confirms what our customers already know - at Asda, the premium is in our products not our prices," said Asda president and CEO Andy Clarke. "Despite tempting gimmicks, at a time when budgets are stretched, they can be assured their big Christmas shop will cost less at Asda."

Overall, shoppers can expect a cheaper Christmas this year as supermarket price wars and commodity price falls take effect.

Asda's success comes as commodity analysts Mintec reported a 5% decline in the cost of Christmas dinner, based on commodity prices.

The Grocer compared this year's prices with last year's to see what shoppers will pay as falling commodity prices and deflation take their toll. And the ­baskets at the top five supermarkets were all cheaper this year, with price cuts deepest at Sainsbury's.

Planet Retail global research director Natalie Berg said: "The festive food war is on and, compared with previous years, there will be more pressure to simultaneously offer the cheapest and best-quality Christmas dinner."

However, the number of comparable products varies from retailer to retailer, making like-for-like comparison impossible.

In terms of products, the biggest fall was on the carrots - down 40% on average, as a result of heavy discounting and a much better harvest.

But many prices are at the same level as last year. The price of the frozen turkey is unchanged in most supermarkets, and is up 20% at Morrisons.

And HSBC head of consumer retail Europe Dave McCarthy said prices will "get more important" next year, as continued food deflation sets in.

"To be successful retailers need to pass on input cost deflation, plus more. And I do wonder how much of the announced price cuts are really just passing on input cost deflation?"