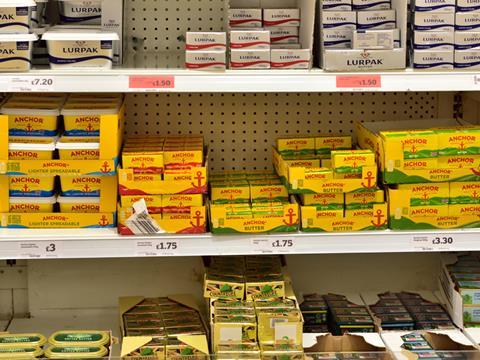 Supermarket prices for butter and cream are on the rise again following warnings over the impact of the heatwave on production costs for British dairy farmers.

Average prices for butters and spreads are up 1% month on month across 226 comparable SKUs in the major mults - meaning they are now 9% higher than this time last year [Brand View 52 w/e 22 August 2018]. A 250g block of own label butter is now £1.54, compared to £1.35 last August.

Tesco has this month added 4p to the shelf price of its 250g blocks of own label butter, following a similar move by Asda in July. Sainsbury's is selling 250g blocks for £1.60, up from £1.50 in early June, while Morrisons has added 5p t0 its 250g butter blocks, now £1.50.
Branded butter prices are also rising. Morrisons has added 20p to a 250g block of Softer Butter Co salted butter, now £1.75, while 250g blocks and tubs of Kerrygold Pure Irish Butter are 10p pricier in Sainsbury's at £1.90. Price hikes across the mults mean a 500g tub of Anchor Spreadable is now 12.6% higher than in June at £3.49, while a 500g tub of Country Life is up 3.5% to £2.95.

Supermarket cream prices have also risen by 1% month on month, putting them 9% higher than last year. Asda has this week hiked prices on a range of own label SKUs including a 125ml pot of fresh double cream, up 7p to 77p, while Morrisons in June added 10p to its own label Healthy Soured Cream 300ml and own label Premium Extra Thick Jersey Double Cream 284ml, now £1.10 and £1.45 respectively.

It come after experts warned price increases on key dairy commodities, including milk, were "inevitable" due to prolonged spells of hot and dry weather this summer.
Poor grass growth means farmers have been forced to supplement with forage, which was already in short supply following last winter, and feed wheat prices hit £174.40 per tonne in the week ending 2 August [AHDB], an increase of £32.30, or 22.7% on 2017.

To reflect rising costs in the supply chain, all of the major milk processors have increased their farm gate prices to near the 30p per litre mark. "The lack of forage is a real challenge for dairy farmers - it's pushing up the cost of production, and as sure as night follows day, retail prices will follow the cost of production in the end," warned John Allen of agricultural consultancy Kite earlier this month.

The mults have yet to move on standard milk SKUs, with a four-pinter of own label ­pasteurised milk still £1.10 on average, while a two-pinter is 82p and a six-pinter is £1.50.

However, there have been some price increases on selected organic lines. Waitrose has added 10p to four-pints of Yeo Valley Organic Milk, while Sainsbury's has added 10p to two-pints of Dale Farm Fresh Organic Milk and Asda has added 15p to four-pints of own-label organic milk.