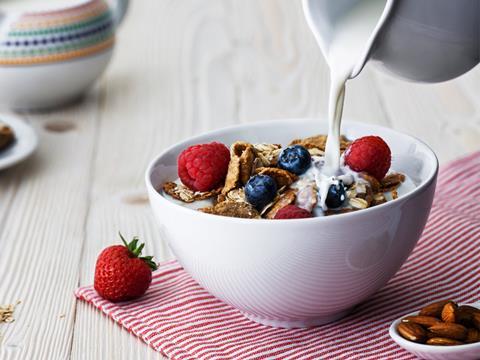 Tesco has given its cereal aisles a shake-up as average prices for the breakfast staple continue to rise in the mults.

Having delisted almost 20 branded and own-label cereal SKUs at the end of January, Tesco last month introduced 23 new products, with a focus on healthier options such as those high in protein and containing no added sugar [Brand View].

Among the new branded lines to hit the retailer's shelves were Jordans Country Crisp Protein Berry Burst (rsp: £3/400g), Eat Natural Super Granola with Protein (rsp: £3.70/500g) and WK Kellogg Super Grains & Granola Cranberry, Sultana & Spelt (rsp: £3.80/570g).

"We want to make it easier for our customers to find healthier products, so we've recently introduced a number of new branded cereals, which include high-protein and lower-sugar options," a spokesman said.

"This latest step highlights our commitment to helping customers make healthier choices, having already removed over 8,000 tonnes of sugar, fat and salt across 2,000 products, including breakfast cereals."

It comes as cereal prices continue to rise in the mults, following a sharp hike in the cost of key ingredients last year. Average prices are now up 2% year on year across 653 branded and own-label SKUs [Brand View 52 w/e 28 February 2018].

At Tesco average prices are up 5% year on year across a comparative lineup of 338 cereal SKUs, reflecting fewer promotions compared with this time last year and some recent price rises on own-label SKUs. It added 20p to a trio of own-label premium mueslis and granolas last month, for example (now £2.40/500g).

Cereal is also more expensive in Sainsbury's (+2%) and Morrisons (+5%) compared with last year, the data suggests.

Sainsbury's has also scaled back on promotional activity compared with the same week last year, as well as increasing prices on some branded SKUs, such as adding 20p to a 790g pack of Kellogg's Corn Flakes and 500g pack of Kellogg's Frosties, now £2.70 and £2.50 respectively.

Morrisons has increased prices on some branded cereal SKUs since January, such as Kellogg's Special K Red Berries 360g - which is up 94p to £2.94, and Kellogg's Bran Flakes 500g, up £1 to £2.

Weetabix was the first to warn prices for cereal would have to rise back in January 2017, with CEO Giles Turrell blaming surging commodity costs following the drop in the pound after the Brexit vote. By December, all three major manufacturers had increased their price per kg for cereal over the previous year, according to Toby Baker, marketing director UK of Nestlé Breakfast Cereals.

This pushed the average price of branded cereals up 3.1% in the mults last year, though own-label prices continued to fall, The Grocer's Top Products Survey revealed [Nielsen 52 w/e 9 September 2017].