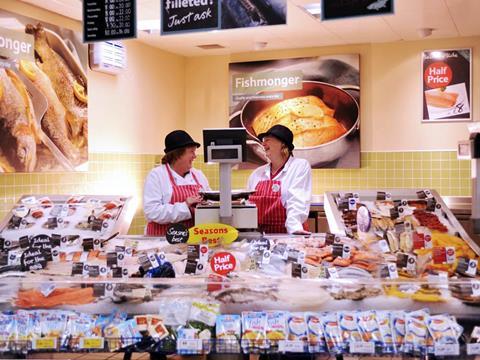 After months of bucking the deflationary trend gripping the wider meat, fish & poultry sector, chilled fish has become the latest victim of the relentless drive towards everyday low prices.

The category is now in deflation, with prices down 1.1% year on year in the latest quarter [Kantar Worldpanel 12 w/e 3 January 2016].

Although chilled fish sales have continued to outperform meat and poultry, volume growth (4.5%) is now outstripping value (3.8%).

It comes after many months of the sector managing to continue to grow value sales ahead of volumes, while other proteins were hit by falling prices. But with the discounters now putting significant efforts into improving their chilled fish offerings, there is growing pressure on the mults to start cutting prices.

According to BrandView.com, the average price of fresh cod - and chilled fish products containing cod - has fallen 14% year on year across the big four. Prices were rising for much of 2015 but have been falling sharply since mid-November.

Cod loin has seen particularly big reductions in some retailers. Morrisons has slashed the per-kilo price from £18 to £14.97 over the past year, with counter-dyed smoked loin down from £11 to £9.72. Tesco has also cut the price of loin, down from £17 to £13.50.

Meanwhile, salmon is down 4% year on year in the big four. For example, a 750g pack of own-label salmon fillets at Tesco has fallen from £9.80 to £8.25, with other retailers also running aggressive offers on the fish. There have also been sharp reductions on some haddock lines in the big four.

Promotional activity on chilled fish has fallen, suggesting deflation is "likely down to more purchases in the lower price tiers and base prices going down," says Charlotte James, analyst at Kantar.

Looking at the market overall, penetration and frequency of purchase have both increased, she says, with added-value products continuing to show strong value growth of 8.8%, ahead of volumes up 5.7%. Smoked products have also ­performed well though they are showing some deflation, with volumes up of 5.5% ahead of value growth of 3.4%.

Retail price cuts come despite recent increases in wholesale prices for cod and salmon. Norwegian cod prices are up 3.8% year on year this month, while Norwegian salmon prices are up 18% year on year - hitting their highest level for 20 years as a result of growing global demand and tighter ­supplies through December.

But prices for some other fish have fallen considerably, with wholesale Norwegian haddock prices down 34.7% year on year this month, and UK plaice prices down 25.4% year on year.

Supplies of white fish could come down further next year, with UK fishing crews permitted to catch 15% more North Sea cod and 47% more haddock under new quotas for 2016.