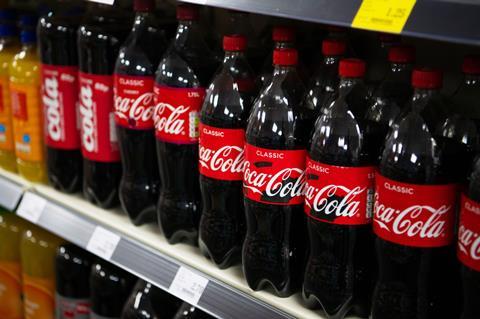 Shoppers are paying more for Coke and Pepsi as further price inflation hits the soft drink aisles.

Supermarket prices for bottles of Coca-Cola, Diet Coke and Coca-Cola Zero Sugar have risen by as much as 9% in some cases since the start of 2019 [Edge by Ascential 8 w/e February 2019].

The average non-promoted price for a one-litre bottle of regular Coca-Cola has increased 9p to £1.46 since the start of the year, for example, while a 1.5-litre bottle is up by 6p to £1.99 and a 500ml bottle by 3p, to £1.48, compared with January 2019.

A two-litre bottle of Diet Coke and Coke Zero Sugar is up by 16p to £1.90, while a 500ml bottle of Diet Coke is up by 4p to £1.32 on average, according to our data.

Average supermarket prices for two-litre bottles of Diet Pepsi and Pepsi Max, which are made and distributed by Britvic in the UK and Ireland, have also risen by 11p to £1.66, while 1.5-litre bottles of Pepsi Max are up by 3p on average to £1.39.

Shoppers are also paying more for 500ml bottles of Sprite, Sprite Zero, Fanta and Dr Pepper, now £1.32 on average, for example, while one-litre bottles of Schweppes Tonic Water, Indian Tonic Water, Bitter Lemon, Canada Dry Ginger Ale and Soda are 5p pricier at £1.31.

Britvic was not available to comment, while CCEP stressed retail pricing was at the discretion of its customers.

However, PepsiCo's global business warned last October that prices for its soft drinks would have to rise to counter higher transportation and aluminium costs.

Revealing its full-year results for 2018 last month, CCEP also pointed to "the rising cost" of PET and aluminium as commodities headwinds.

It comes as it emerged CCEP has begun stockpiling "key raw materials" to protect itself from post-Brexit supply shortages.

Nik Jhangiani, the company's CFO, told investors the biggest Brexit risk for the company was "the potential for tariffs or delays in transportation of some of our key raw materials that come from outside the UK".