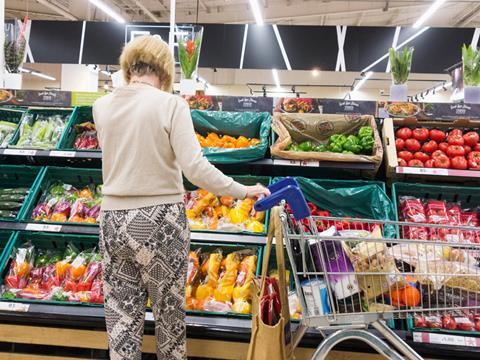 As health experts issue fresh warnings over childhood obesity levels, research by The Grocer suggests families are having to fork out more to put fresh fruit and veg on their plates.

Average supermarket prices for fresh veg have risen 2% year on year across 360 SKUs in the major mults [Brand View 52 w/e 29 May 2018], with some particularly steep hikes on core lines. An own-label broccoli is now 14.3% more expensive at 51p on average in the major mults, while a kilo bag of carrots is up 16.4% to £1.45, and loose courgettes up 9.3% to £1.93 per kilo on average.

Shoppers are also paying more for an iceberg lettuce - up 12.7% year on year to 56p, while a large clove of garlic is 7.5% more expensive at 56p and a bag of three onions is up 14.1% to 91p.

Meanwhile, average prices for fruit are up 1% year on year across 52 SKUs in the major mults, with some bestsellers now considerably more expensive than last year. Own-label loose bananas are up 5.9% year on year to 77p on average, while a 600g bag of satsumas is up 7.2% to £1.19 and a kilo of Braeburn apples up 21.1% to £1.49. Lemons and limes are also pricier at 35p each on average, up 5.5% and 7.4% respectively year on year.

It comes as British growers warn they are still feeling the impact from the Beast from the East, with cold weather and heavy rainfall hampering UK carrot production in particular. Shortages mean UK wholesale carrot prices have surged by 20p per kg to an average of 52p per kg since late February [Defra].

Growers elsewhere in Europe and further afield have also faced challenging weather conditions over the past 12 months, leading to some disruptions in supply chains.

However, while supermarkets might be facing "some supply issues", recent price increases in the fresh produce aisles are more likely the result of mounting cost pressures for both growers and retailers, says British Growers Association CEO Jack Ward. The national living wage rose from £7.50 to £7.83 in April, with British growers also facing labour shortages that are "getting more and more difficult almost by the month", he warns.
The dramatic drop in the value of the pound is also affecting profitability. "Everything imported is getting more expensive because of the exchange rate differential," Ward adds.

Higher supermarket prices haven't necessarily translated to higher prices for British growers, who are still feeling the pressure as a result of "very intense competition" in the retail sector, Ward says.

That competition means there are still some bargains to be had in the fruit and veg aisles. A pair of ripe & ready avocados is now 3.9% cheaper than last year at £1.74 on average, for example, while a 500g pack of green seedless grapes is down 3% to £1.88 and a 500g bag of parsnips is 1.9% cheaper at 63p.