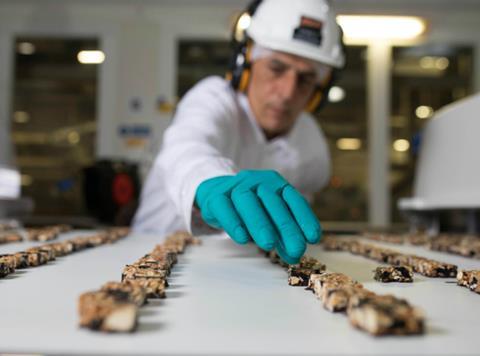 Mars ramped up promotions in the mults last month, as it prepared for the launch of its first new UK impulse brand in 20 years - Goodness Knows.

The confectionery giant, which launched the new 'permissible snacking' brand last Friday, increased its number of featured space promotions by 29.3% last month compared with the previous four-week period [Promo Dynamic Brands 4 w/e 9 July 2017].

The number of Mars deals in the mults was also up 2.3% compared with the same period last year. In particular, it ramped up promotions in the power aisle, which accounted for 64.2% of the brand's featured space deals last month, compared with 45.6% last year. Back aisle promotions accounted for less than a quarter of its total deals (24.5%), while till aisle deals fell by 16.8 percentage points to just 11.3% of the total.

Contrary to the wider trend in grocery of late, Mars increased x for y deals while cutting back on save deals. As a result, multibuys accounted for 16.9% of its offer last month, compared with 4.9% last year.

And Mars wasn't the only big brand to buck the trend on multibuys, which gained back some ground against single price promotions last month.

"This month several brands have seen year-on-year increases in multibuys, most noticeably Walkers (40%), Birds Eye (20%) and Mars (12%)," says Assosia director Kay Staniland.

"In line with these big brands bringing in more multibuy offers, the overall brand preference towards multibuys has seen a 4.8% year on year increase, combined with a 1.1% yearly increase in savings."

Shoppers didn't necessarily get a better deal as a result, however, with Mars (-5.3%) and Heinz (-10.7%) recording the biggest fall in average savings last month when compared with the same four-week period last year.

Mars' promotional campaign was mirrored by the wider impulse category, which also saw an increase in the number of featured space deals in stores, but a drop in average savings.