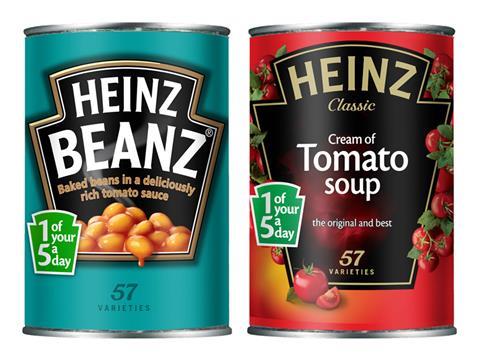 Heinz is ramping up supermarket promotions after reporting sales of its iconic beans and soups are struggling.

Last week, accounts for HJ Heinz Foods UK, the operating arm of Kraft Heinz in the UK, showed sales fell 6.4% in the 52 weeks to 3 January 2016, with beans and soup major culprits.

The brand has now stormed into the most promoted top 10, running 119 featured space promotions in the mults last month - up 75% year on year and up 12.3% compared with the previous four weeks [Promodynamic Brands 4 w/e 17 July 2016].

Shoppers also got better deals on Heinz products, with average % savings up 4.2% year on year.

Only Cadbury, McVitie's, Nestlé and Hardys joined Heinz in increasing the number of promotions month on month.

And while most of the top 10 promoted brands are offering more deals than this time last year, only Coca-Cola (+5.9%), McVitie's (+0.9%) and Cadbury (+1.5%), as well as Heinz, are offering higher average % savings year on year. This could be because the top 10 continue to abandon multibuys in favour of price cuts, with eight now using 'save' as their primary mechanic, says Assosia director Kay Staniland.

"Even Coca-Cola, a historically heavy user of multibuys, is also showing signs of moving towards single price product price cuts, with use of the mechanic up 22% to just under 40% of its offers, with x-for-y dropping from 80% to 55%," she adds.

Overall, the top 10 most promoted brands increased 'save' promotions by 18% year on year last month, with Nestlé the only brand to cut back on 'save' deals, down 14.1% in favour of a 5.2% increase in special purchase and 12.2% increase in x-for-y offers.

Meanwhile, despite health pledges made by the mults, snacks and booze promos continue to dominate over healthier foods. Promotions on fresh produce were down 0.1% year on year last month, with vegetable promotions up marginally (-0.2%). But fruit promos were down (-0.3%) and average % savings were lower on both.