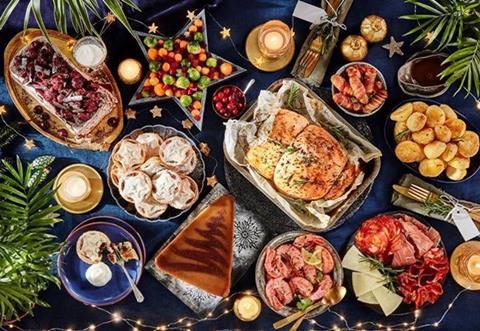 Christmas. A time of year when shopper demand is at its highest. Prices hit rock-bottom and the nation's heartstrings are pulled by the much-anticipated Christmas adverts (and we enjoy debating which retailers got it right and which got it horribly wrong).
For grocers, it's a time to go big in-store. Big with their Christmas décor, big with their colourful campaigns and big with their discounts (those nostalgic Quality Street tins win me over every time). But I question just how strategic brands are being with their below-the-line Christmas marketing campaigns.
While everyone focuses on making the loudest noise in-store, and with most in-store media being own-label products, brands need to be mindful of changes in shopper habits during Christmas, and tailor their campaigns to suit their behaviour.
The reality is that shoppers are not in 'browsing' mode when buying their Christmas dinner ingredients in their local grocery stores – in fact they are in quite the opposite mindset. It is a stressful task that no one really wants to do, and once they eventually face the supermarkets, they wouldn't dare go in without a well-thought-out shopping list. What's more, research shows that shoppers begin planning their food and drink purchases for Christmas 20 days before the big day!
So why do so many brands invest their marketing spend in-store, when shoppers have already decided what products they are going to buy and are very unlikely to change their minds?
The trick is for brands to activate their campaigns and promote their discounted products much earlier in the shopper journey, way before they reach the store.
The good news is that over the past 10 years we have seen a huge growth of media capabilities that give brands the opportunity to optimise sales during changing shopper behaviour periods such as Christmas.
For Christmas, digital and OOH advertising should take priority. Not only do both channels target those shoppers at the right moment of Christmas dinner planning, but they can do so in a natural and organic way. Brands can reach their audience on the right channels and take advantage of advanced technologies such as geo-targeted social media and geo-programmatic tools. What's more, these marketing channels are far more measurable than your traditional above-the-line campaigns, so it's a win-win.
If brands are to invest in-store during this period, they need to ensure they activate media that will achieve genuine visibility and ideally link it to any secondary space they've secured, or promotions they are running.
With the noise of all things Christmas soon to explode (if it hasn't already done so), I look forward to seeing which brands aim to take the limelight this season, and which put their shoppers first.