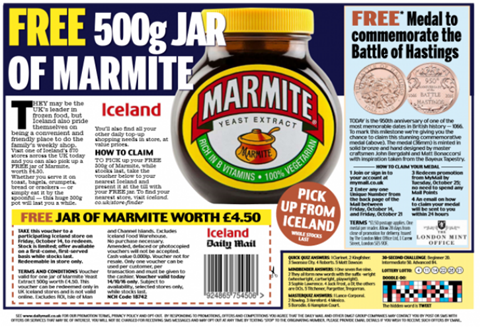 Iceland has been told by the Advertising Standards Authority (ASA) to ensure it has made a "reasonable estimate" of response to promotions after complaints were made that it had run out of Marmite.

A promotion in the Daily Mail, in association with Iceland Foods on 14 October 2016, offered readers free Marmite.

The banner on the front page of the newspaper stated: 'Free giant jar of Marmite pick up from Iceland today'. Further text on the advert also said 'while stocks last' and 'stock is limited'.

However, seven complainants who tried to redeem their vouchers were informed in store that the promotional item was out of stock, and challenged whether the promotion breached the advertising code.

Some complainants said they had found or understood that some stores had fewer than 10 in stock or none at all.

Iceland Foods said it had approximately 10,000 500g jars of Marmite in stock, of which 6,479 jars were redeemed under the promotion. However, as Iceland had limited stock in some stores, it was not capable of meeting the possible demand at every store. The company accepted that it had disappointed those customers who were unable to redeem their free Marmite vouchers.

Iceland said that estimates of take-up had been made and the promotion had made the limited availability clear.

The ASA said that the advertising code required that promoters be able to demonstrate they had made an estimate of the likely response. The ASA said it had not seen any documentary evidence to demonstrate that a "reasonable estimate" of likely response had been carried out. It also said that the publicity in the few days prior to the promotion, which involved a pricing dispute between a major supermarket and a consumer goods company that resulted in Marmite being withdrawn, should have been taken into account.

The ASA said it welcomed both the Daily Mail's and Iceland's willingness to make changes to the way they conducted similar promotions. However, because it had not seen evidence that both the Daily Mail and Iceland had made a "reasonable estimate" of the likely response, it concluded that the promotion breached the code.

The ASA said: "We told the Daily Mail and Iceland to ensure, in similar future promotions, that they were in a position to demonstrate that they had made a reasonable estimate of the likely response, and either that they were capable of meeting that response or that consumers had sufficient information, presented clearly and in a timely fashion, in order to make an informed decision on whether or not to participate - for example, by stating on the front-page flash regarding any limitation on availability and the likely demand.