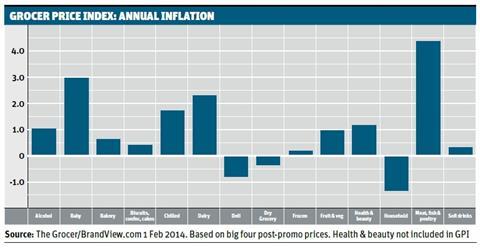 Supermarket inflation has slumped to less than 1% this month.
Average inflation across the big four fell from 2.08% on 1 January to just 0.71% on 1 February. The drop in annual inflation was the result of comparatively muted price increases after Christmas.
Prices typically rise in January as festive deals, predominantly in booze, end. This time last year overall prices rose 2.87% month-on-month, but this year they rose just 1.5% month-on-month. As a result, inflation fell at all the supermarkets, and Tesco and Morrisons fell into deflationary territory.
Tesco went from being the supermarket with the highest inflation on 1 January, at 2.97%, to deflation of 0.22%. Deflation at Morrisons, which has generally kept the tightest lid on inflation over the past year, was 0.1%. Inflation at Asda and Sainsbury's fell to 1.09% and 0.86% respectively. Waitrose has the highest inflation this month of 1.8%, down from 2.34% last month.
Lower commodity prices continued to put downward pressure on inflation. Bad weather drove inflation in fruit & veg, up above 5% last spring but it is now down to just 0.97%. Lower grain prices have helped depress inflation in bakery and dry grocery to less than 1% and confectionery and soft drink inflation has also fallen under 1% thanks largely to falling sugar prices.
Supermarket promos have also played a role. Household is the only category where average prices have fallen over 1% over the past year and it is also a category that has seen a marked rise in deals. This week own-label supplier McBride blamed intense branded promos for a 10.5% drop in half-year operating profits.
Other indexes are also showing inflation tumbling. Last week the BRC-Nielsen Shop Price Index showed food inflation fall from 1.7% in December to 1.5% in January - its lowest level since March 2010.
The BRC believes low food inflation is likely to continue. "Our food retailer members have managed to keep prices low again and with relatively stable commodity prices at the moment as well, and forecasts for commodities quite upbeat, we may continue to benefit from this for some time yet," it says.