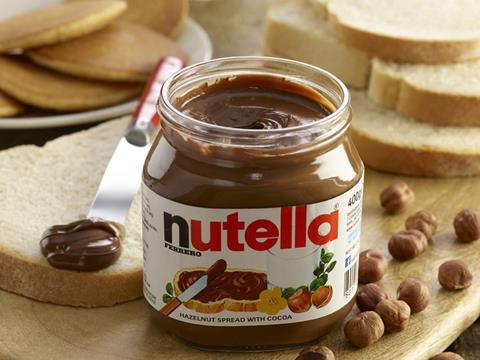 As Ferrero faces a backlash over Nutella's "secret" recipe change, Brits are facing higher prices for the spread in major supermarkets.
Morrisons became the latest supermarket to hike prices on Nutella this month, adding 22p to a 1kg jar, now £5.20, and 20p to a 750g jar, now £4.20. [Brand View 52 w/e 8 November 2017].
It follows similar price hikes across the other major mults in recent months. A 200g jar of Nutella is now £1.60 in Tesco, Asda and Sainsbury's, up from £1.50, while 400g up 20p to £2.70, a 750g jar is 30p more expensive at £4.30 and a 1kg jar is now £5.30, up from £5.
The hikes come despite a significant drop in the cost of importing key ingredient hazelnuts this year following a good crop in Turkey. "Last October, hazelnuts were trading around £7.50 to £7.70 per kilo while this year it is at £4.90/kg (grade A: raw, boxed, in shell, 13mm-15mm)," said Adam Johnston, a trader at Freeworld Trading.
However, Ferrero said it was facing a "variety of input pressures" across its portfolio. "We are addressing these challenges with our retail partners," said a spokeswoman.
Ferrero was already facing a backlash this week after the Hamburg Consumer Protection Centre spotted a change to the Nutella recipe. The group published 'before and after' images of ingredients labels on German jars on Facebook and claimed the new version was higher in sugar.
The Ferrero spokeswoman admitted the recipe had been tweaked, but insisted the content of hazelnuts, cocoa, sugar and palm oil remained unchanged. "The fine-tuning consists of substituting whey powder with an equivalent quantity (2.1g/100g total product) of milk powder (from 6.6% to 8.7% of total product). This enables us to improve the overall quality of the milk content and to ensure a better consistency of our unique taste over time."