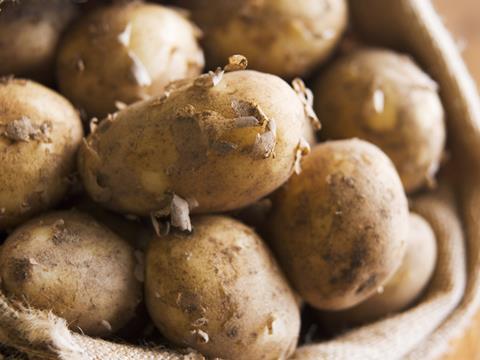 Potato retail prices are plummeting as the market continues to return to normal after poor harvests and retailers push spuds through aggressive promotions.

Over the past 12 months, the price of fresh potatoes has fallen 14%, dropping from an average of 99p/kg to just 85p in July [Kantar 52 w/e 19 July 2015].

For example, 1kg of Charlotte potatoes cost £1.25 in Tesco and Asda last year and are now down to just £1 [Brand View].

Improved supply is the key driving force behind the falling prices, says Rebecca Hughes, consumer insight analyst at AHDB. According to AHDB Potatoes, British potato production in 2014/15 reached 5.7 million tonnes, up 3% on the previous year and the biggest crop since 2011.

This has led to 45% lower farmgate prices than two years ago, which has filtered through to retail prices.

But that's not all. Heavy promotional activity has also taken its toll on retail prices, with almost all major retailers seeing double-digit declines in value sales as a result.

Morrisons is the only major mult to increase volumes as a result of such aggressive price competition. It has done so through increased sales of 12.5kg bags, according to AHDB, which it has sold for as little as £2 (16p/kg), causing its average price to fall 21.6%.

Aldi has also done well on the volume front. Including potatoes on a rotational basis in its 'Super 6' fruit and veg promotion, in which six products each week are sold for 29p, has pushed up potato volumes sales there 41.8%, but caused average prices to slide 20.5%.

The price falls seen in retailers are dramatic, but sales data from April to July suggests the freefall may now be coming under control: average prices in this window are down 5.2% year on year, so the decline is slowing down [Kantar 12 w/e 19 July 2015].

Hughes adds although the price changes over the past two years look dramatic, it is in fact a case of potato prices returning to their usual level. "We can almost call it a blip; prices are more or less back to where they were before."

Prices are likely to be stabilised further by an expected tightening in supply. AHDB predicted a 6.6% fall in potato plantings this year in its first estimate - which it said would see total production fall to 5.05 million. If the market behaves as it has in recent years, this would see farmgate prices climbing once more and, potentially, retail prices in turn.

This would be unwelcome news for consumers but could help suppliers, which have been feeling the strain from low prices of late. Further opportunities for driving value back into the potato market also exist in the convenience channel, where prices are higher - 98p/kg for fresh potatoes, against 85p in all channels - but spuds under index, with only 9.2% of fresh sales in convenience, compared with 11.5% of all grocery.