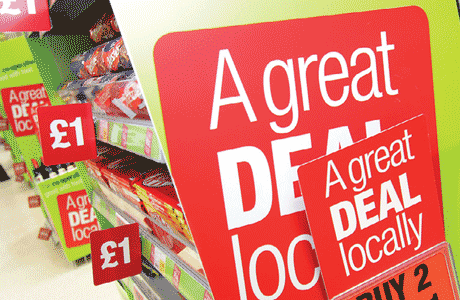 Retailers are stuck in a serious rut when it comes to deals and need to offer more variety in branded promotions if they want to excite consumers, promotions experts have warned.

There has been no movement in the top 10 most promoted brands across the major mults over the past month. Cadbury, Nestlé, McVitie's, Mars, Birds Eye, Coca-Cola, Kellogg's and Walkers all remained in the same position as the previous month, with only Mr Kipling and Heinz swapping places at ninth and 10th.

"The top 10 brands are fairly static," says Assosia director Kay Staniland. "While they are well-known and have a variety of individual products/SKUs within them, retailers do need to mix things up a bit."

Brand owners' desire for prominent spots in-store and retailers' need to get a good return on promotions space has to be balanced with consumer needs, she says. "Consumers want choice and variety."

As for deal mechanics, most of the top 10 continue to focus on price cut/save offers, although Coca-Cola and Nestlé are using the x for y multibuy mechanic more.

"None of the top 10 have used the 'extra free' mechanic, which can be costly and often requires special packaging or labelling," adds Staniland.

Perhaps unsurprisingly given the time of year, Cadbury and Nestlé were the brands that ramped up ­promotions the most last month, with the number of Cadbury promotions up by 39%, and Nestlé up 48%. Mars deals were up by 9%.

Cadbury, Nestlé and Mars deals were also up on a year-on-year basis, both in terms of the numbers of offers and % savings. "Interestingly, given the focus by retailers to remove 'unhealthy' goods from foyer and till areas, all three confectionery brands recorded a presence in retail foyers leading up to Easter - an opportunity too good to miss and a category willing to invest in the space," says Staniland.

Kellogg's has slowed down its promotional activity, with numbers of ­promotions down 13% over the past month.