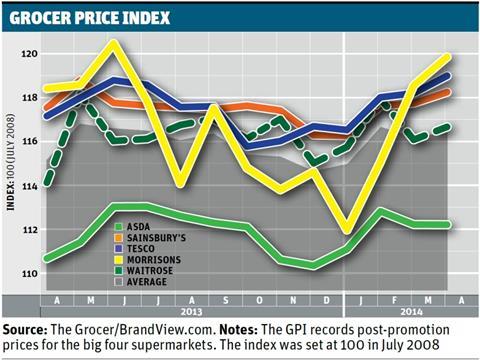 In the first Grocer Price Index since the outbreak of the price war, signs of price cutting are few and far between.

Average inflation across the big four crept up from 0.96% on 1 March to 1.13% on 1 April and month on month prices also edged up - by 0.19%.

Sainsbury's, whose CEO Justin King downplayed the price war last month, has kept the tightest lid on annual inflation with prices up 0.6% year on year. Inflation at Asda, Tesco and Morrisons is closely bunched at 1.5%, 1.6% and 1.2% respectively, while Waitrose's was highest at 2.3%.

The only significant sign of price cutting was in fruit & veg, where Morrisons has lowered the price of more than 20 lines - including some top sellers such as three-packs of peppers, pre-packed broccoli and cucumbers. As a result of the cuts, Morrisons' average fruit & veg prices fell 2.01% month on month, having already dropped 8.69% the month before.

Following Tesco's lead, the supermarkets also made some headline-grabbing price cuts to own-label milk prices in March. However, across the 4,000-plus dairy products sold by the supermarkets, prices dropped by only 0.48% month on month and annual inflation remained comparatively high at 1.95%.

The scale of the price cutting has left some commentators underwhelmed. "Morrisons pricing activity has started with a whimper rather than a bang," said Shore Capital analyst Clive Black. "Tesco has also been muted, despite claims to be more price aggressive."

However, he pointed to this week's advertised price cuts from Tesco on butter, eggs, chicken and beef mince as a sign that there is more to come.

The price war comes in the wake of a significant fall in inflation that has been driven mainly by falling commodity costs. Inflation was consistently above 2.5% last summer, but after good harvests in the UK and elsewhere it has been hovering around 1% this year.

Bakery is a case in point. Inflation in the category has slumped from more than 3% last summer to -0.83% thanks to significantly lower wheat prices. This month, price cuts on 800g own-label loaves at Sainsbury's and Waitrose and big branded promotions - including a 3-for-£2.50 offer on Kingsmill at Asda - helped depress inflation.

Meat, fish and poultry inflation has also been easing since last spring, when prices rocketed in response to the horsemeat crisis. However, this month, inflation crept up again to 4.9% with lamb prices rising significantly. A reduction in supply from New Zealand has been blamed (see below).
Wholesale prices: tighter lamb supply in New Zealand pushes up lamb prices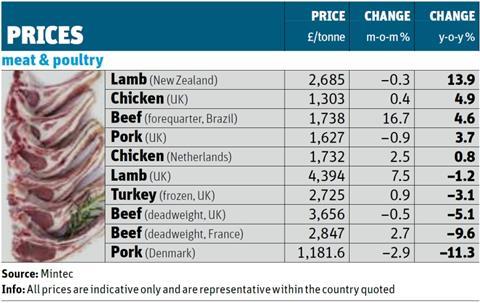 New Zealand lamb prices are up year on year as supplies have tightened. Lamb exports from the country stood at 23,800 tonnes in January, down 7% year on year. Meanwhile, UK lamb prices remain below the levels seen a year ago, though prices have lifted over the past month. At £4,394/tonne, British lamb is now 7.5% more expensive than a month ago but down 1.2% on a year-on-year basis.
Brazilian beef is up both thanks to strong export demand and tight domestic supplies. Prices have increased by 16.7% over the past month and are now up 4.6% year on year. By contrast, UK and French beef prices are down year on year, thanks in part to greater availability of imports, particularly from Poland.
European pork prices are down because of reduced demand following the import ban imposed by Russia over African Swine Fever. Danish pork is down 11.3% on last year, and nearly 3% on last month.