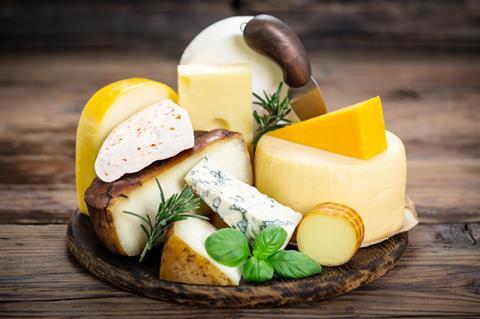 The mults are hiking prices on Continental cheese amid shortages and another slump in sterling.

Average supermarket prices for halloumi have risen 3% year on year, while brie (+4%), mozzarella (+4%), ricotta (+8%), edam (+2%), parmesan (+5%), camembert (+1%) are also much pricier [Edge by Ascential 52 w/e 22 August 2019].

Most of the price increases have been on own label Continental cheeses. A 250g pack of own label halloumi is up by 24p to £2.40, for example, while a 250g bag of own label grated mozzarella is up by 5p to £1.92 on average, and a 100g own label French goats cheese is up by 10p to £1.98.

A 250g own label ricotta is up by 3p to £1.17, while a 175g cambozola is up by 2p to £2.15 on average.

There has also been a drop in supermarket deals in the category, with the volume of Continental cheese sold on promotion down 3.9% to less than a quarter of sales (22.4%) [Kantar 52 w/e 19 May 2019]. There have been shortages of some Continental cheeses over the past 12 months, which is pushing up prices, says Chris Chisnall, marketing director at importer Bradburys Cheese.

"So PDO cheeses such as comte, products like halloumi - there's been shortages on as well. Therefore in order to secure volume, prices have gone up," he says.

"There have also been milk shortages in France in certain regions across particularly camembert and the mountain cheeses - so we have seen some increases in price that we've had to pass on to retailers."

Milk production remains "muted" across the EU28, according to AHDB, with volumes up just 0.3% (103 million litres) year on year in the first quarter of the year.

"Although Ireland, Poland and Denmark have seen growth in supplies compared to last year, large declines in France, Austria and the Netherlands has dampened overall growth," AHDB says.

The impacts of the summer drought are still being felt, AHDB adds, with France among the worst affected. Its Q1 deliveries fell by 2% (135 million litres).

"It's not a widespread EU milk shortage. It's in certain regions where there's obviously quite a few makers or liquid milk producers and there's been some competitiveness across the board," says Chisnall.

Average EU farmgate milk prices were up 5.2% year on year in June at 30.72p per litre, AHDB data shows.

Sterling fell to a 22-month low in recent weeks, which has also added costs. And prices could go higher in the event of a no-deal Brexit, warns Chisnall.

"Blue cheese coming in from the Continent will have a tariff apportioned to it", he says. "We're looking at a tariff of about £200/tonne - it's what was announced pre the previous Brexit date so I'm assuming that's going to be in situ for 31 October as well".