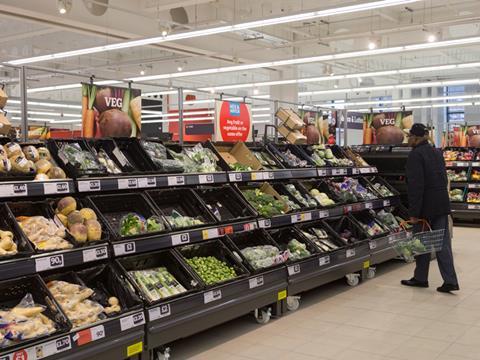 Supermarket prices for fresh veg are still surging in the wake of this year's extreme weather.

The Grocer reported in August that prices for British-grown veg were rising in the mults, and as growers warn some crops have fared even worse than predicted, data shows supermarket prices are climbing even higher.

The British Onion Producers' Association (BOPA) this week confirmed UK onion production has plummeted by 40% as a result of the summer heatwave, having previously warned it would fall by 25%. European growers have faced similar problems, meaning Britain will have to import more from the southern hemisphere to make up the shortfall, BOPA warned.

Supermarket prices for onions, which were already on the rise in August, have increased again. A 1kg bag of brown onions is now 3.4% more expensive than last year at 76p on average, while a pack of three large brown onions is up 17.7% at £1.95 on average, and a bunch of spring onions is 11.5% pricier at 58p [Brand View 52 w/e 1 October 2018].

Growers also predicted the UK carrot yield would be down 30-40%, and supermarket prices are now significantly higher than last year. A 1kg bag of pre-packed carrots is now almost 30% more expensive at 69p on average, while a kilo of loose carrots is up 14% to 68p.
Retail prices for broccoli, which was also affected by the prolonged dry and hot spell, appear to have stabilised since the summer, though they remain higher than last year.

The heatwave has also inflated the price of some salad SKUs, with the British Leafy Salad Association warning last month that rain in August had failed to resurrect the UK's lettuce crop. A pack of two little gem lettuces is up 15.6% year on year to 81p on average, and a 250g pack of radishes is up 16.2% to 72p.

A whole cucumber is 8.6% more expensive year on year at 53p, following warnings last month over supply issues from the Netherlands. British asparagus has also been in short supply, leading to an increase in imports from Peru; a 250g bunch of asparagus is now 7.3% pricier in the major mults at £1.98 on average.

AHDB has confirmed UK potato plantings were down 3% year on year to 119,000 hectares - the third-lowest area on record - in 2018. Snow, rain and cold weather in spring delayed plantings, while the heatwave hit yields and crop quality, it said. As a result, UK wholesale potato prices for the 2018/19 season started around £190 a tonne higher than at the end of the previous season, with the price of imports also pushed up by problems with the EU crop.

However, supermarket prices for potatoes have remained largely on a par with last year so far. A 1kg bag of baby potatoes is up 4.9% on average to 93p, but a bag of four baking potatoes is actually 2.9% cheaper than last year at 74p.