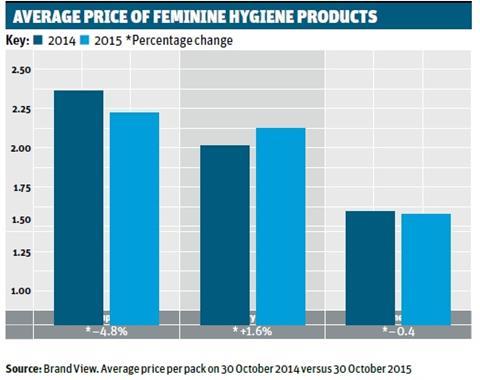 While efforts to remove the 5% 'tampon tax' failed last week, the price shoppers are paying for tampons has dropped by roughly that amount in the past year anyway.
Exclusive research by The Grocer shows Brits are paying, on average, 4.8% less for a pack of tampons than they were this time last year - though the news will be of little comfort to campaigners who saw MPs reject an amendment to the government's finance bill that would have led to negotiations with the EU for a cut in the 5% VAT rate on sanitary products.
The price of tampons is falling faster than the total feminine hygiene category - including liners and sanitary towels - where average prices are down 1.6%.
The steeper drop in tampons has been driven by a combination of lower base prices and increased promotional activity that has pushed the average price of a pack down from £2.34 to £2.23 [30 October 2014 vs 30 October 2015]. Base prices fell about 2% over the period, and the price shoppers paid was reduced further by a 50% hike in the number of promotions on tampons.
A snapshot of promotional activity on 30 October this year shows Lil-Lets account for exactly half the promotions in the tampons category, a few percentage points ahead of Tampax. The situation was reversed a year ago, when the greatest number of deals was on Tampax.
Own-label lines accounted for just 2% of all deals on 30 October this year and, on average, the price of own-label tampons has fallen 2.6% year on year to £1.10 versus a 5.1% decline in brands to £2.53.
In terms of format, the decline in the price of tampons has been driven by the most popular and common pack sizes, with 16 and 20-packs down 6.5% on average, from £1.88 to £1.76.
In the sanitary towels category, a drop in the price of own-label lines drove a 1.6% fall in the average price. In the case of 10 and 12-packs, for example, the price of own-label products typically fell 3.7% to 76p while the average price of a branded product rose 2.1% to £2.41.
The Always brand dominated sanitary towels promotional activity on 30 October this year and in 2014, accounting for around three-quarters of total deals. Across the category, the average depth of deal has reduced from 33.2% last year to 25.8% this October.
In contrast to the drop in price of tampons and sanitary towels, the average price shoppers pay for a pack of liners has stayed static year on year at £1.59 a pack.
This is a result of shallower promotions compared with last year, with the average saving falling from 29.7% on 30 October 2014 to 24.3% on 30 October this year.