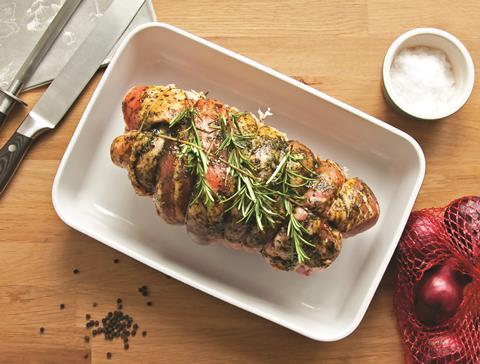 The mults are offering some good deals on lamb this Easter - although prices generally remain high as supplies continue to feel the impact of the Beast from the East.

A fresh half leg of lamb is 42p cheaper on average than it was last year thanks to big price cuts in Tesco, Asda and Sainsbury's in the run-up to Easter [Edge by Ascential 52 w/e 15 April 2019].

Tesco has this week slashed its price for the SKU in half to £5.75, while Asda has rolled back its price for a half leg of lamb by 30p - from £7.99 to £7.69 - and Sainsbury's has taken £1 off its price, now £8.50.

However, on average supermarket prices for fresh and frozen lamb leg joints are 2.6% higher than last year, while fresh and frozen lamb shoulder joints are 2% pricier on average.

Over the past 12 months Asda and Sainsbury's have both added £1 per kg to a fresh ­boneless lamb shoulder joint, now £12, for example, while Waitrose has added 27p to a 1kg frozen leg of lamb, now £8.65.

It comes as the damage done by the cold weather last spring continues to take a toll on UK lamb production. "We lost a lot of ewes in the spring and farmers were sending forward ewe lambs that would have gone for breeding, so the breeding flock is a little bit lower," says Duncan Wyatt, AHDB's lead analyst for red meat.

In January to March, lamb slaughterings were down 6% on the same period last year, according to AHDB. The GB liveweight lamb price hit 210.22p/kg in the week ended 3 April - 5p above the five-year average.

Elsewhere in the meat aisles, fresh pork and bacon prices are down 3% and 1% respectively year on year - suggesting the impact of the African swine fever sweeping across China and eastern Europe is yet to be felt by the mults.

A 300g pack of unsmoked streaky bacon is 6p cheaper than this time last year, for example, while a pack of eight smoked bacon thick back rashers is 8p cheaper at £2.45, and a 540g pack of pork loin steaks is down 11p to £3.39.

It comes as British pig prices remain relatively low amid subdued retail demand for pork and bacon in the UK. In the week ended 30 March, the UK-spec APP fell by over half a penny to 140.07p/kg - around 5p below the equivalent week in 2018.

However, a surge in EU pig prices in March - reflecting strong demand from China - is pushing up prices for foodservice suppliers.

York-based procurement firm Beacon warned last week the outbreak of ASF in China could send pork and bacon prices soaring in the coming months, with supplies tightening after German and Dutch suppliers experienced a "huge uplift" in demand from the Asian nation.

And African swine fever could eventually take its toll at the tills. Rabobank expects Chinese pork production losses to reach 25% to 35% in 2019, which will have a big impact on global supplies.