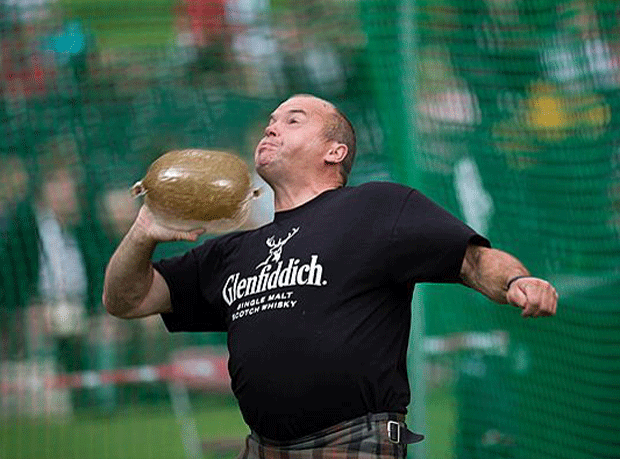 How times have changed. When Robbie Hughes worked for Diageo (the world's biggest whisky producer) in the early noughties, its distilleries were "just ticking over", he says. Now he estimates output has trebled.

"The industry is flat out," says the group distillation manager at Ian Macleod Distillers, owner of the Glengoyne and Tamdhu brands and a key supplier of blending whisky to Diageo among others. "Production is flat out at Ian Macleod. We can't make enough."

With drinks, namely whisky, having accounted for 80.4% of Scotland's food and drink exports last year [SFD 52 w/e 31 December 2012], Scotch is a lynchpin of the country's food and drink industry - and indeed its economy. Food sales, too, have burgeoned over the past few years and both food and drink have plenty to play for over the next year. In 2014, Scotland will host the Ryder Cup and Commonwealth Games, providing a brilliant opportunity for the country to showcase its food and drink.
" The industry's flat out… and we're flat out at Ian Macleod. We can't make enough whisky" Robbie Hughes, Ian Macleod Distillers
But with the prospect of growing regulation of the drinks industry, unresolved questions over the economic impact of an independent Scotland and the small matter of a 1.4% decline in exports last year, there are clouds on the horizon. So can Scottish food and drink companies overcome these challenges - and if so, how?

The good news is that they are already outperforming their counterparts south of the border. While domestic sales of food and drink across Great Britain grew 4.1% last year, in Scotland they rose 5.3% [Kantar Worldpanel 52 w/e 20 January 2013]. This, of course, is down to a number of factors, not least a 7.3% hike in Scottish alcohol value sales driven partly by the ban on multibuy drinks deals introduced in 2011.

But other sectors - such as dairy, chilled convenience, confectionery and biscuits - are outperforming the rest of Great Britain too. The industry's efforts to promote the provenance, quality and health credentials of Scottish food and drink have played a key part in this, says James Withers, CEO of trade association Scotland Food & Drink (SFD), which was established in 2007 to grow Scottish food and drink sales from £7.5bn to £10bn by 2017 and in 2009 revised that target to £12.5bn - a target that, having already hit £12.4bn, is set to be smashed four years early.
"We've had a really strong start to the year… sales are up 15% on last year" Louise Creevy, Border Biscuits
One company that's shared in this success is Scotty Brand, first established by parent company Albert Bartlett in 1948 and resurrected in 2011 to produce potatoes, soft fruit and prepared vegetables. "We've grown from being a £2m brand at the start of 2011 to be an £8m brand in two years," says Paul McLaughlin, managing director at Scotty Brand. "We're seeing a phenomenal level of growth - the rate of sale of some of our products in England is in some cases more than it is in Scotland."

Bank support

Given these statistics, it is no surprise that Scotty Brand, like many other Scottish companies, is looking at the countries immediately beyond its borders with great interest. In June 2012, Scotty Brand won nationwide listings in Asda for three of its seasonal lines of lettuce as well as listings for vegetables in Tesco for the first time.

Border Biscuits is also looking southwards after reporting 70% growth in sales through the multiples, wholesalers and independents in 2012. "We've had a really strong start to the year and our sales are up 15% compared with last year," says Louise Creevy, national account manager at Border Biscuits, which has a turnover of £11.5m. In April, the brand secured nationwide listings in Nisa, and in September it won shelf space in Tesco and Morrisons for its Sharing Pack.

SFD is looking to provide further assistance to companies hungry for growth. This March, it launched a project offering its 300-plus members advice from Glasgow-based Clydesdale Bank on issues such as how to secure funding as well as access to seminars hosted by the bank. It is now in talks with HSBC and Lloyds TSB banks with a view to setting up similar partnerships.
"We've been over-reliant on slow growth markets. We need to look at the Far East and China" James Withers, Scotland Food & Drink
"For companies to realise their individual ambitions and for us to grow the value of the sector as a whole, the support of banks such as Clydesdale will be crucial," said Withers at the March launch. "This collaboration will help us to enable Scottish food and drink businesses to become more economically sustainable and to exploit the commercial opportunities in front of them."

And many believe there will be no better opportunities to exploit than next year's Commonwealth Games in Glasgow and the Ryder Cup in Gleneagles.

Scottish drinks giant AG Barr - the official soft drinks sponsor of the Commonwealth Games with its Irn-Bru, Barr, Rubicon and Strathmore Water brands - is already cashing in. Limited-edition Irn-Bru cans featuring the brand's original 1901 can design with a picture of Highland strongman Adam Brown are already on sale - the first in a series of cans being created in the run-up to the event. "It's going to be hugely exciting," says Jonathan Kemp, commercial director at AG Barr.

Sporting chances

Not everyone is confident 2014's sporting calender will boost sales, however. "Unless a company is a major sponsor, opportunities are somewhat limited and unlikely to result in any significant increase in sales beyond the increased visitor numbers to Scotland," says James Walker, sales and marketing director at Walkers Shortbread. "For the Commonwealth Games, no brand advertising or placement is allowed at the venues and opportunities at the Ryder Cup will be limited to major sponsors."

There appear to be no such limits on exports - so long as the right markets are targeted. Although most agree that last year's dip in exports was a blip, resulting from a combination of sluggish consumer spending in Europe caused by the Eurozone crisis and a 19% contraction in Scotch sales to France, the figures do point to an over-reliance on low-growth, established markets.

That needs to change, says Withers. "We're at a point where we need to focus on certain areas of growth," he says. "Our performance in the last year has been fantastic but if you look at food exports, for example, we have been over-reliant on slow-growing markets such as Europe. We need to look at emerging markets where there's more growth, such as the Far East and China."
" The French market was distorted by excise tax increases… it remains a significant market" Rosemary Gallagher, SWA
Despite the dip, 2012's exports were still 18% up on 2010's figures according to SFD's figures. And even the significant fall in Scotch exports to France, which resulted in the US overtaking France as Scotland's top food and drink export market in 2012 with a 12.5% rise, isn't as bad as it seems, claims Rosemary Gallagher, communications manager at Scotch Whisky Association.

"The French market was distorted by excise tax increases, which led to 'stocking up' of Scotch whisky in 2011 before their introduction," says Gallagher. "We expect France to remain a significant market for Scotch."

Developing markets

That said, future growth is likely to come from further-flung markets. Singapore became Scotland's third-biggest food and drink export market last year with sales valued at £340.5m, marking the first time an Asian country has entered the top three.

While the US, the world's biggest Scotch market, increased whisky imports by 16%, other markets are growing at a much faster rate. Estonia and Latvia grew at 28% and 48% respectively last year, for example [Scotch Whisky Association 52 w/e 31 December 2012]. Meanwhile, Scottish Development International says it's helped 2,096 Scottish companies develop their overseas presence over the past year - 52% more than the previous year - and is increasingly focusing on markets in Asia, Africa and the Middle East.

It's not alone. "We now distribute Glengoyne in 50 markets and the number of cases sold has gone from 14,000 a year in 2003 to 40,000 worldwide last year," says Neil Boyd, UK commercial director at Ian Macleod Distillers. "We've almost doubled in size in the last five years. Taiwan, Thailand, China and Russia are where we see most of our growth coming from, and the Baltic States are also important."

The challenge facing whisky producers now is to meet the burgeoning demand in such countries. "The stock isn't sitting in a warehouse ready to be shipped out," says Macleod's Boyd. "There's a squeeze on volume. We have to lay those bottles down 12 years in advance and you don't know what demand will be like in 12 years' time. Diageo is planning for a massive hike in demand and we're growing our capacity to cope."
"Export success isn't about being an over-night phenomenon… it's about quality & service" James Walker, Walkers Shortbread
It's not just the drinks makers enjoying a surge in exports. Border Biscuits has seen a continual increase in overseas sales over recent years and 10% of its annual output is now exported. "We now sell to 21 different countries with the biggest volumes going to Hong Kong and China," says Creevy.

Walkers Shortbread is also working hard to maintain growth in its substantial overseas business. "Our export sales grew in the region of 5% in 2012 and it is envisaged that this level of growth will continue into 2013," says Walker. "By adopting a consistent approach over the long term, exports now account for 40% of our turnover. Export success is not about being an overnight phenomenon it is based on consistent quality of product and service. Walkers is internationally recognised because of its provenance and quality."

Independence

Playing the provenance card is key to many Scottish companies' growth strategy. And there's no better way to promote a product's provenance than Protected Geographical Indication (PGI) status. Stornoway black pudding was awarded the prestigious accreditation in May following a seven-year campaign by four Stornoway butchers.

Strong provenance can only help so much, however. One of the big factors keeping Scottish drink company bosses awake at night is the proposed introduction of a minimum price on a unit of alcohol, which would push the basic price of a bottle of whisky to £14.

"Minimum unit pricing will have an impact on the own-label market because supermarkets usually have two offerings and it will effectively remove the cheaper offer," says Ian Macleod's Boyd. "They will react by reducing format size so consumers can still buy a cheaper bottle."

The other big question is over Scottish independence. "Even opponents of independence are now accepting that Scotland can thrive and prosper as an independent country," declared Scotland's first minister Alex Salmond last month.

Some senior Scottish food and drink figures are not so sure. "We're watching nervously to see what could happen to currency and local taxation [as a result of Scottish independence]," says Boyd.

He and the rest of Scotland will have to wait until the referendum in September 2014 to find out whether independence is on the cards - and what that might mean for Scottish food and drink.