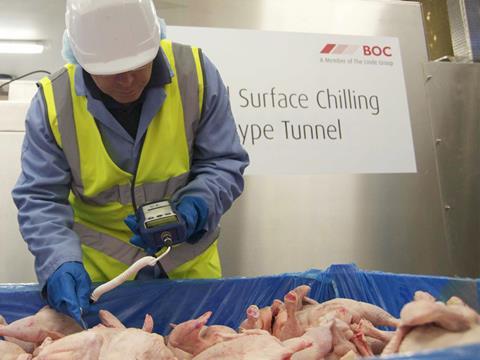 The Food Standards Agency (FSA) has launched a new consumer campaign to increase awareness about campylobacter and how to prevent it.
The "Chicken Challenge" will be launched during Food Safety Week on 18 May 2015, with social media activity planned in the run up and during the week to encourage consumers to spread the word about the FSA's "chicken rules".
These include keeping chicken bagged separately from other food, washing everything that comes in contact with raw chicken, avoiding washing the chicken itself, and always checking chicken is cooked properly.
The FSA said it would be "asking everyone in the food chain to do their bit" and claimed all retailers and suppliers, through the BPC and NFU, have agreed in principle to be partners in the campaign.
The UK retail sector has come under increasing pressure to take steps to eradicate campylobacter, which causes more than 280,000 consumers to suffer from serious food poisoning each year.
In the latest round of FSA tests on fresh chickens sold at retail, 73% tested positive for the campylobacter to some degree, with 19% of chickens found to have the highest level of contamination.