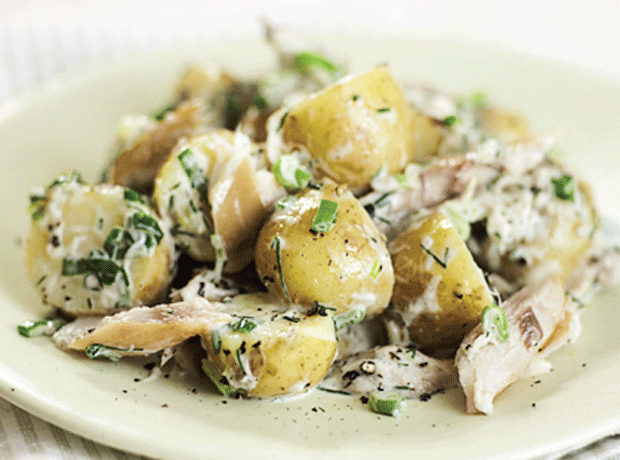 Tesco and Sainsbury's have both recalled batches of potato salad over fears they could contain pieces of metal.
Sainsbury's said it believed the issue was related to a mechanical failure at its supplier, and is investigating the incident. It added it had so far received no complaints from customers, and that the problem had been identified by the manufacturer as part of routine quality control checks.
'Customer safety is our top priority," said Sainsbury's. "We immediately removed the affected lines from sale while we investigate with the supplier."
Customers are being told not to eat the products but return them to the store. No other products are known to be affected.
The recalled lines comprise:
Sainsbury's
Be Good to yourself potato salad, 300g
All date codes
by Sainsbury's Potato Salad, 500g
All date codes
by Sainsbury's Potato Salad, 300g
All date codes
by Sainsbury's Potato Salad, 180g
All date codes
by Sainsbury's Deli-Style Coleslaw & Potato Salad, 500g
All date codes
Tesco
Tesco Finest Charlotte Potato Salad, 275g
Use-by dates: 12 May 2015, 13 May 2015, 14 May 2015 and 15 May 2015
Tesco Finest Coleslaw and Potato Salad, 400g
Use-by dates: 11 May 2015, 12 May 2015, 13 May 2015, 14 May 2015 and 15 May 2015
Tesco Potato Salad, 300g
Use-by dates: 17 May 2015 and 18 May 2015
Tesco Potato Salad, 600g
Use-by dates: 17 May 2015, 18 May 2015 and 19 May 2015
Tesco Healthy Living Salad, 300g
Use-by dates: 16 May 2015 and 17 May 2015
Tesco Coleslaw and Potato Salad Twin Pack, 500g
Use-by dates: 14 May 2015, 15 May 2015, 16 May 2015, 17 May 2015 and 18 May 2015