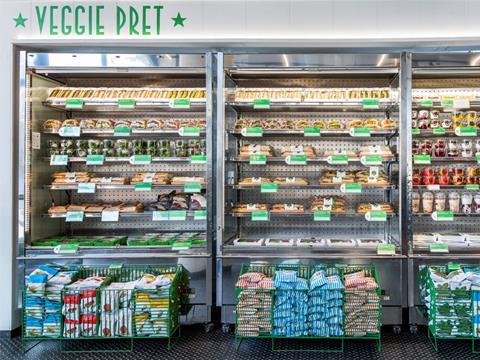 After months of questionable handling of its rapidly emerging allergy crisis, Pret has finally taken a sensible step. It has hired former FSA boss Tim Smith to oversee an overhaul of its food safety policy and procedures.
The sandwich chain has come under heavy criticism for failing to act quickly enough following the tragic death of teenager Natasha Ednan-Laperouse in 2016, with its pledge to introduce full ingredient labelling coming only after the inquest into her death raised serious questions over its existing policy and procedures.
And when Pret was linked with a second suspected allergen death – that of 42-year-old Celia Marsh, who died in December 2017 after eating a Pret a Manger 'super-veg rainbow flatbread' – it sank even lower in the public's estimation, as it appeared to wash its hands of all responsibility, acting as judge and jury in a case where the date for the coroner's inquest had not even been set.
The Marsh case may yet prove to be even more important to Smith's review than the Ednan-Laperouse case. For while Pret believes Marsh died because the dairy-free yoghurt in its vegan flatbread contained traces of dairy protein, even if that turns out to be the case (the manufacturer, Coyo, strongly refutes this), as the FSA pointed out, it was Pret's responsibility to ensure the food it was selling was safe.
The other issue this case has flagged up is that these cases are systemic. A barrage of complaints Pret has received over Twitter suggests there are wider problems with both its labelling and its procedures. Customers claim they've found meat in products labelled vegetarian and dairy in products labelled vegan; been served almond milk instead of regular milk in coffee; and found the wrong items in the wrong wrappers – all incidents that could prove very dangerous or potentially fatal for people suffering with serious allergies.
When you consider that only last week, two lowly takeaway workers were found guilty of manslaughter in relation to an allergen-related death – and are awaiting sentence (on 7 November) in connection to a single incident – you could argue that Pret has escaped lightly, and the question of potential damages to the family of Ednan-Laperouse is also unresolved.
But at least Pret has finally woken up to its responsibilities as a food retailer. And as Smith's appointment confirms, it's realised that tackling the food safety risks associated with allergens will require far more than putting some warning stickers on packs or giving consumers a full list of ingredients or offering better training to staff. It must take root and branch responsibility for its supply chain, and introduce strict controls and procedures to ensure no mistakes are made, which will may require a completely new culture.
The other good news is that Pret couldn't have picked a better adviser than Smith, who spent five years as the chief executive of the Food Standards Agency. There he created the national food hygiene rating system, transformed regulation of the meat sector and was credited with driving programmes to reduce salt in the nation's diet and introducing front of pack traffic light labelling.
He also spent five years as Tesco's group quality director, where he was responsible for product development, responsible sourcing, standards, quality and food policy – and while he wasn't able to avert the 2013 horsemeat scandal, he definitely helped steer the supermarket giant in a new direction through his subsequent review.
Pret still has a long way to go to rebuild the trust it has lost in the wake of recent events. But at least it is now taking decisive action to address the allergen issue. The results of his initial enquiries are expected in January. And the most positive outcome of all would be to ensure that not only does his examination sort out Pret's processes and procedures; but that other food businesses are inspired to do the same. Perhaps it will even influence government and FSA policy. He's got the connections after all.