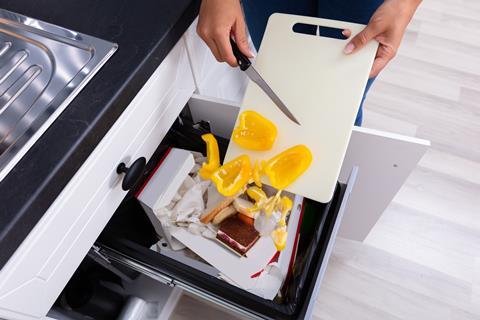 Today, 29 September, marks the UN International Day of Awareness of Food Loss and Waste – a day that underscores the need to transform and rebalance the way our food is produced and consumed. The day shines a light on a pressing issue. A recent report from WWF and Tesco, Driven to Waste, suggests an estimated 40% of food produced (around 2.5 billion tonnes) goes uneaten around the world.
We urgently need to tackle our food waste problem. Reducing waste and loss is not only crucial in a world where the number of people affected by hunger continues to rise – it's also fundamental in tackling the climate crisis, as wasted food has a significant impact on our environment. Unused food contributes hugely to greenhouse gas emissions when it is sent to landfill, where it rots and emits harmful methane. Throwing out food also wastes all the energy, fuel and water that went into its production.
With the recent Intergovernmental Panel on Climate Change report delivering a 'code red for humanity', and more of us than ever concerned about the effects of climate change, we must all come together to try and prevent the climate crisis. For food businesses and retailers, this must include not only reducing our own food waste and acting on waste within our supply chains, but also supporting consumers to cut down food waste at home.
There are a number of ways the food and drink industry can help address household food waste: from encouraging the purchase of 'wonky' fruit and vegetables to educating consumers about how best to store food to keep it fresh for as long as possible.
Another massively underused solution to combat food waste is to improve labelling.
Data from fellow B Corp Too Good To Go and YouGov shows expiry dates are responsible for 10% of all food waste across Europe. That's why Danone has signed up to support Too Good To Go's 'Look, Smell, Taste, Don't Waste' campaign to help tackle food waste by switching from 'use by' to 'best before' dates across our yoghurt brands.
Food past its 'use by' is no longer safe to consume, whereas food passed its 'best before' may still be safely eaten. There is still work to be done to help consumers understand food labelling, but by changing the date labelling and adding the 'Look, Smell, Taste, Don't Waste' logo, we hope we can help empower consumers to use their senses to work out when food is past its best, and prevent unnecessary food waste in the process.
While making date labelling easier to understand is important, food businesses must simultaneously step up to the plate and reduce food waste within their own operations. This means minimising any waste from the farm to fork journey and ensuring surplus is redistributed to community causes. At Danone in the UK, we have committed to Wrap's Target Measure Act food waste reduction roadmap, committing to halving our food waste by 2030.
We are on a journey to reduce our waste and recognise that as a business we will not be able to truly tackle it without collaborating with suppliers, retailers and not-for-profits. All food businesses must play our part, alongside supporting the public to understand when food is still safe to eat. With the climate crisis showing no signs of slowing, there has never been a more critical time to prioritise this. By committing to Too Good To Go's Look, Smell, Taste, Don't Waste campaign, businesses can take a simple but significant step to help our consumers reduce food waste.