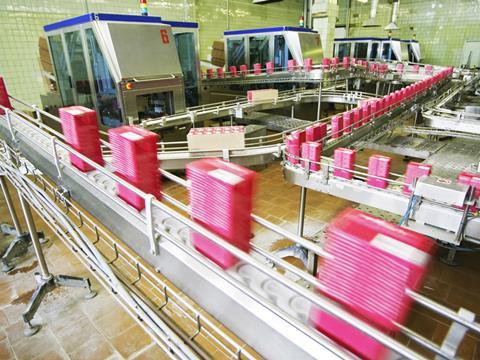 Food and drink manufacturers have made further progress towards the Food and Drink Federation's 25-year Environment Plan, the trade group's latest annual sustainability progress report reveals.

The report shows members are now just four percentage points off the 2025 target of a 55% reduction in carbon dioxide (CO2) emissions by 2025, measured against a 1990 baseline. Last year's report showed a 46% reduction in (CO2) emissions.

The trade group said the 51% reduction in CO2 achieved could be attributed to the continued focus on energy efficiency and decarbonisation.

It warned, however, that a fall in production in several subsectors had contributed to the reduction and could be reversed in future.

Members that participated in the FDF's latest waste survey achieved the group's target of reducing food and packaging waste sent to landfill to "effectively" zero in 2015 - the latest figures available.
The FDF, which launched Ambition 2025 in October 2016, was the evolution of a previous programme - the FDF Five-Fold Environmental Ambition - after food and drink companies pressed for more ambitious targets.

It said manufacturers continued to work with other parts of the packaging chain on improving the recycling of packaging, particularly plastics.

Water usage has also seen a reduction - 35.8% between 2007 and 2016 compared with a 30.1% reduction in water usage between 2007 and 2015.

The seventh year of the Logistics Carbon Reduction Scheme, which falls within the overall Ambition 2025 framework, showed that manufacturers contributed to a 7% reduction in average kilogram CO2 equivalent emissions per vehicle kilometre in 2015 compared with 2010.

The report coincides with the FDF widening access to its Sustainability Resource Hub - an online sustainability reference tool - to non-FDF members.

"Helen Munday, chief scientific officer at the FDF, said: "We hope this tool will provide companies, particularly small to medium-sized ones, with practical guidance to contribute to their sustainability goals."

Munday said the hub was the next step towards supporting a shift towards integrating sustainable sourcing into decision making at all levels throughout the supply chain and achieving Ambition 2025's goals.